Putting things in our eyes and bellies and brains.
Buckle up. It's been a big year!
JANUARY/FEBRUARY
I had spent a great deal of 2012 working with kids in North Ayrshire and there was a final run in January, helping pupils at a
Kilbirnie
primary school create a giant comic strip. It was challenging; the class had come up with a story based on a local myth which involved ghosts and time-travelling astral projection, all presenting a bit of a continuity nightmare.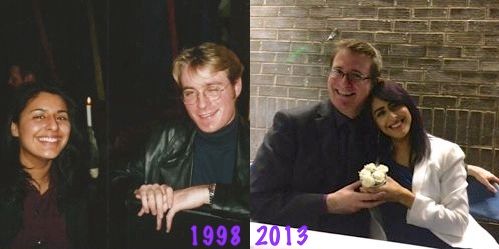 Yasmin and I celebrated fifteen years as a couple at a hotel in Luss on Loch Lomond. Mid-week and off-season, it was great to have the spa and pool pretty much to ourselves.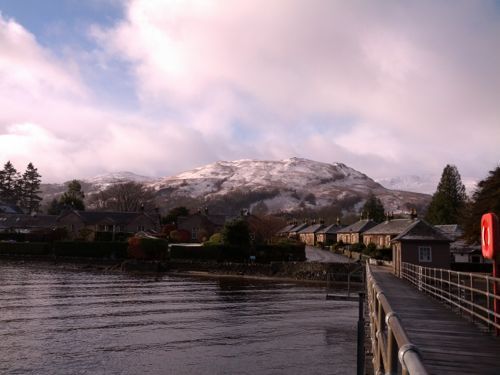 The Glasgow Short Film festival enabled us to catch animator
Don Hertzfeldt's
"Bill" trilogy presented as one feature,
It's Such A Beautiful Day
. It's a fantastic piece of work, hilarious and heartbreaking in parts. A must-see for anyone with an interest in mental health. We also enjoyed Kristy Guevara-Flanagan's documentary on
women in comics
.
A comic I'd illustrated on the bedroom tax was distributed by a Glasgow
housing association
; the first in a whole series of public sector jobs this year.
MARCH/APRIL
By wee brother turned 30. He's not big on birthday cake so we did on overnight donut run to the always-beleaguered Krispy Kreme shop in Edinburgh.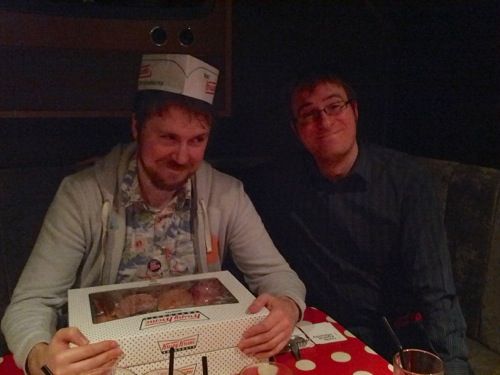 And for my sister-in-law's birthday we braved the chilly air did a spot of "glamping" in a wigwam outside Stirling.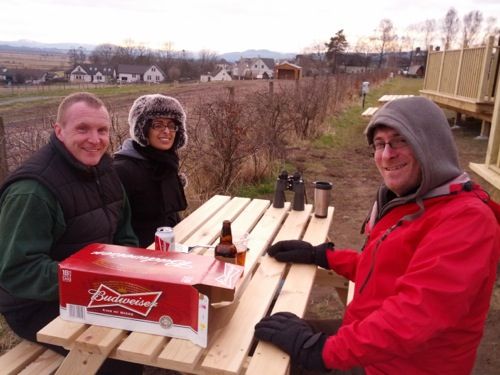 I'd spent most of February and March working on another big comic project; it fell at the last hurdle and while I was well paid for what I'd done, the work will as a matter of necessity never see the light of day. It's frustrating when these things happen but sometimes they can't be avoided; in any event, there was other high-profile "stripping" to come later.
The long drawn out saga of Creative Scotland trundled on. The widespread revolt by artists from the end of last year had led to a series of open sessions and I went to the one held in Easterhouse. I was particular impressed by filmmaker
May Miles Thomas
and her dire prognosis on CS's support of screen media, another criticism that has been
thoroughly borne out
despite the subsequent installation of a new chief exec. On a side note, the previous incumbent seemed to exact revenge on Scotland by securing City of Culture status for Hull over Dundee.
In April I was accepted as a member of the
Professional Cartoonists Organisation
, an ambition of long-standing. I've enjoyed it so far. It's certainly allowed me to converse with some wonderful cartoonists from all over the UK.
MAY/JUNE
Summer being pretty consistently my busiest time of year we took an early holiday and our third trip to the Algarve. This time we split our fortnight between the fishing town of Alvor and our old favourite Olhos de Agua, also finding gaps for day trips to the historic fort at Silves and the market town of Lille.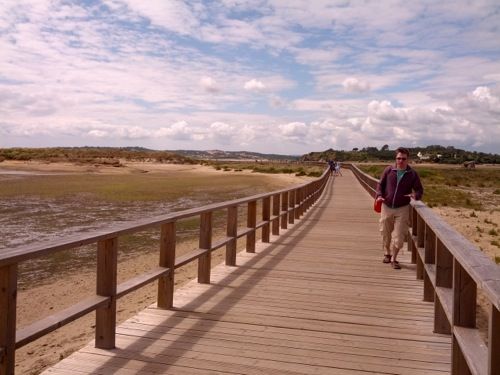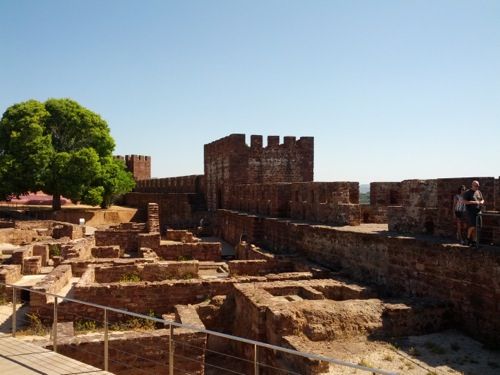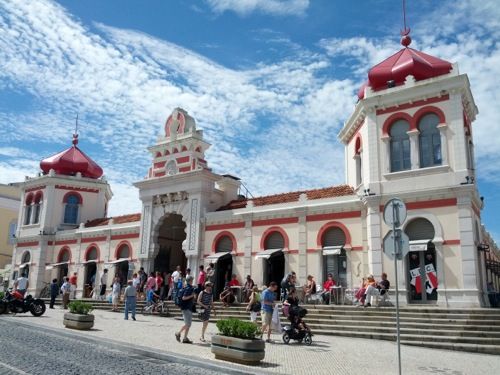 Alvor sits on an estuary that is an important spot for migrating birds but they were in unusually short supply, the very wet winter having knocked the change of seasons off a little. However the landscape was much greener than usual. I still managed to bag a few firsts, especially when exploring the extensive Ria Alvor boardwalks. And we even saw some freshwater turtles. Needless to say the gastronomy was as great as ever. I doubt there's any fish left after we leave. We'll be back.
I returned to
The Haven
for another series of workshops with the young people who spend afternoons there, getting some respite from family circumstances affected by terminal illness. These always put me though my paces. When you're meeting the same group for the eighth or ninth time you can't rely on your well-worn repertoire of anecdotes!
I was pleased to see Steven Camley's first and long overdue
solo exhibition
. As far as I'm concerned Camley can go toe-to-toe with the likes of Steve Bell and Dave Brown. I'm bagged as to why The Herald don't make his cartoon available on their website and, beyond that, why there isn't a book each and every Christmas. He's only won Cartoonist of the Year, what, ten times?
We went to a big-screen live broadcast of
The Audience
. Great entertainment for a politics geek but also fans of quick-change artistry. The first time Helen Mirren's Queen Elizabeth transformed from one age to another was greeted with audible gasps.
JULY/AUGUST
For Y's birthday we dined at
Chardon d'Or
. Between Portugal in the spring and France in the Autumn we had a very foody year but this was the highpoint. Over an eight course tasting menu and wine to match there wasn't a single item I didn't at least like very much and a few things that were transcendentally good. Brian Maule is a wizard.
Sky Arts rolled in to Glasgow with their
Portrait Artist of the Year
show and the Studio provided caricatures for visitors to the Kelvingrove as well as workshops for families. There's still a
clip online
but be warned the HD camera is not kind. At times, it looks more like footage from the Mars Rover.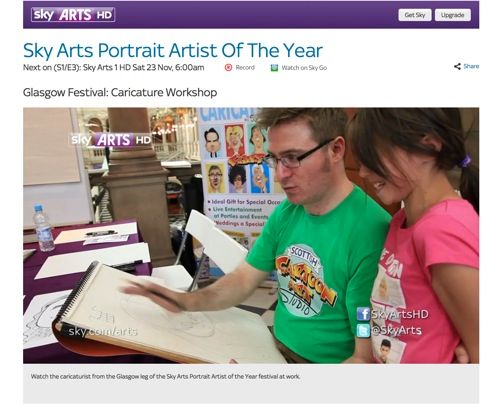 August means Edinburgh and The Fringe and we took in quite a lot this time: surreal blather from Tony Law; sweet and silly stuff from Big Howard & Little Howard; very clever meta gubbins from Dan & Dan (which included a bit of audience participation from Y, who Dan clearly fancied); chaotic nonsense from Peacock & Gamble; a loose but loveable set from Susan Calman; a typically classy and barbed hour with Greg Proops; and the hugely impressive mythological paintings of
Paul Reid
. Also at the Book Festival we heard a great talk by Ruby Wax on mental health and "mindfulness". We also went to the Chris Ware and Joe Sacco event at the comics-centric
Stripped
strand. Yasmin took the first comic of Ware's she bought and got the big man to sign it. I got to
quiz him
too.
Far and away the pinnacle of our trip was
Blam!
, an astounding Danish show that combines acrobatics, choreography, puppetry, mime, stage craft, set design and movie tropes to unique effect. See it if you can.
My grandparents celebrated their diamond wedding anniversary and we had the largest family gathering in quite a while. It was great to see these two in fine fettle. And those who witnessed it will not soon forget the McBeth men's rendition of "Delaney's Donkey".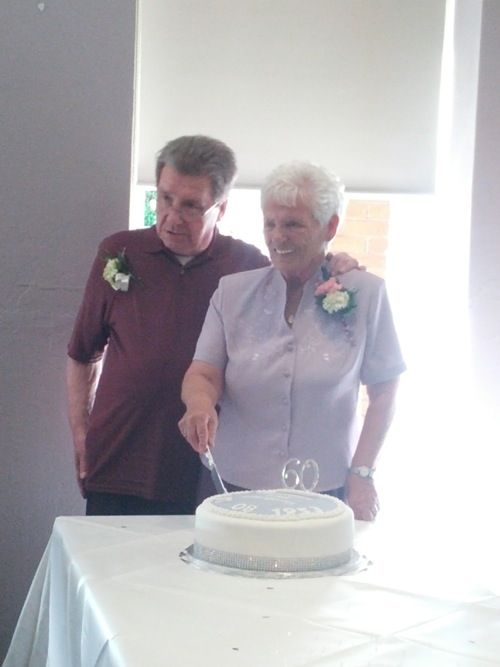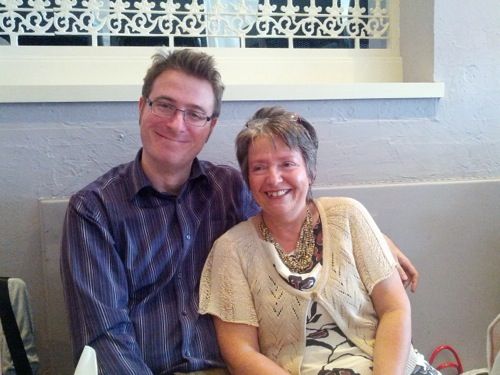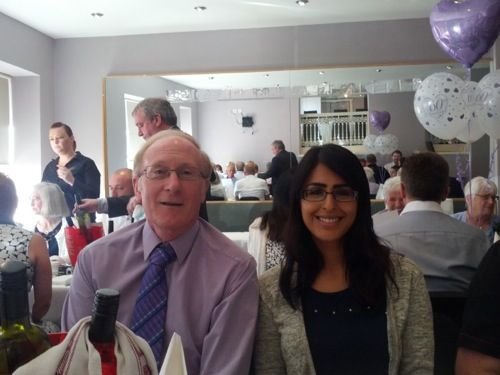 Our anniversary rolled around too, so we decided to opt for a light meal. Just a wee bit of sushi…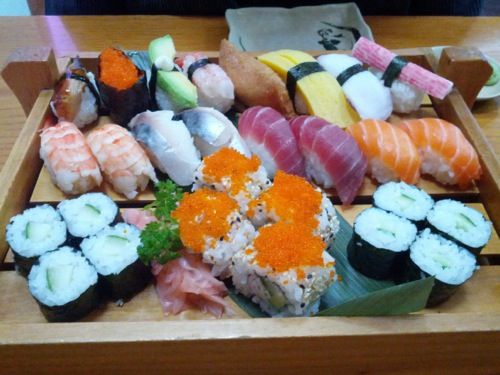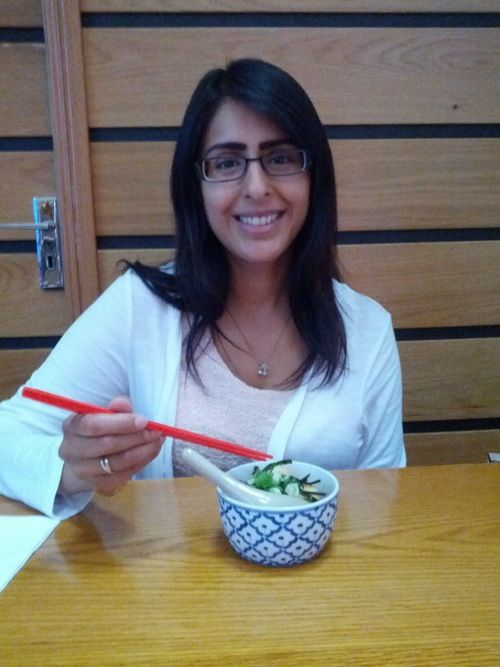 SEPTEMBER/OCTOBER
Given the recent change in our family circumstances it was a delight to provide cartoon strips for
Just DUK 1T
, the new Scottish website devised by and for young people with type 1 diabetes. The
launch event
The Lighthouse included a massive print of one of my strips.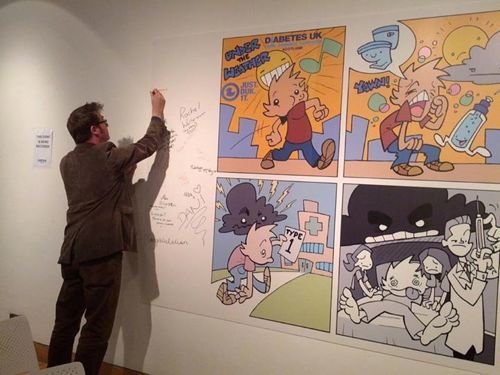 The autumn brought work for two more great organisations,
Who Cares? Scotland
and
LGBT Youth Scotland
. You see a lot of commentators decrying young people but spending time with all these folk would set them straight.
We hopped over to St.Just le Martel for the 32nd
Salon International de la Caricature du Dessin de Presse et d'Humour
. There's a thorough account of this busman's holiday over at the
Studio's blog
. We took some time out in Limoges too, pottering about the medieval town centre and visiting several amazing restaurants but especially the
Pont Saint-Etienne
where you can rely on a wee touch of theatricality or visual flair with every dish.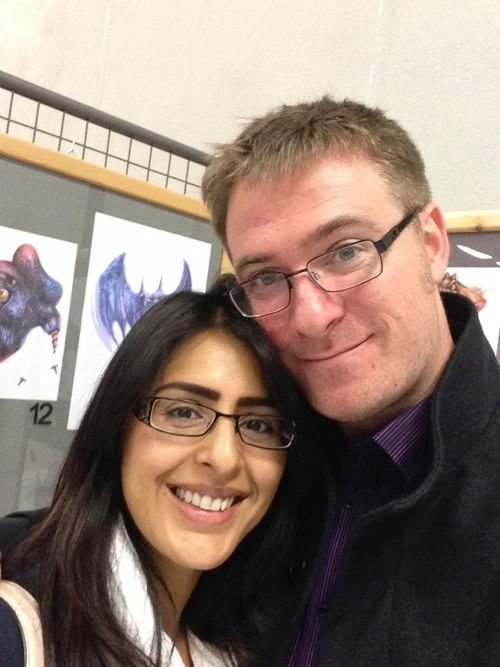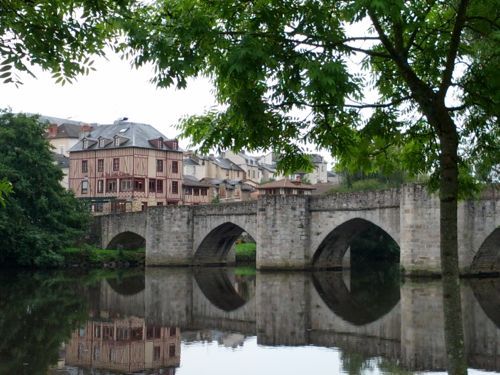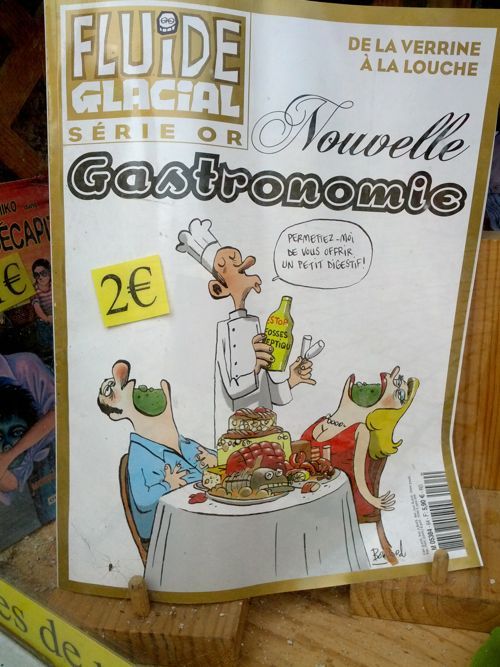 On a more sombre note we took a trip to the museum and memorial at
Oradour-sur-Glane
. The village's tale is tragic, a vindictive massacre enacted by Nazis at a point in the war when the tide was turning against them, a crime that has never been satisfactorily resolved or justice properly done. Only a week or so before our visit the German and French Presidents had been, the first such public acknowledgement to occur. We think of these events as ancient, the stuff of pulp fiction. But the preservation of what remains of Oradour, right down to cars still parked in the spots they were left hours before their owners were killed, brings it all into shocking relief.
Back in Scotland we had a full dance card. To the new Hydro venue, where we heard a concert of Danny Elfman's music from Tim Burton's filmography. The man himself was in attendance and performed virtually every number from
The Nightmare Before Christmas
, an
early festive treat
. Then to the GFT for Adam Buxton's BUG show, another persistent itch finally scratched.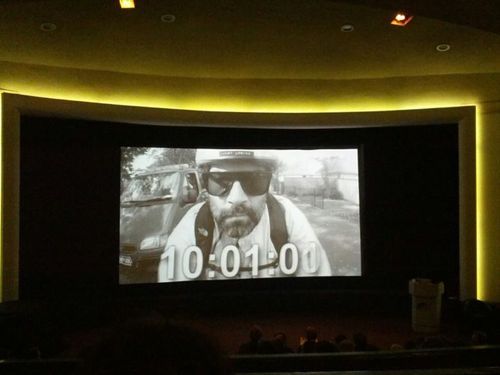 And a trip to Glasgow Green for Oktoberfest. Not exactly the authentic teutonic experience - hot dogs don't count as wurst in my book and the crowd were most roused by a performance of "Sweet Caroline" - but a good laugh nonetheless.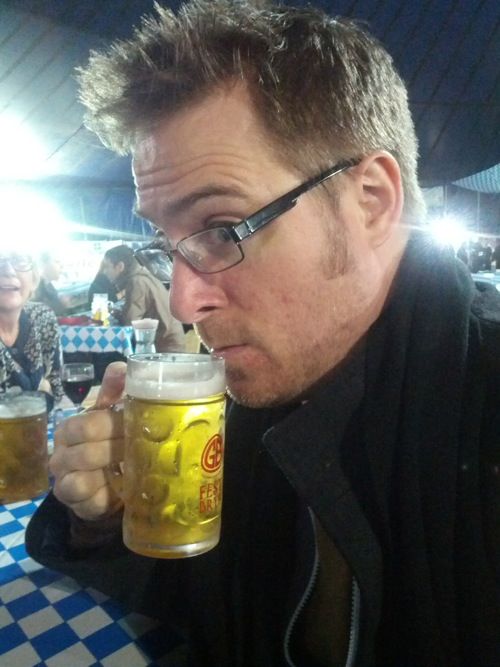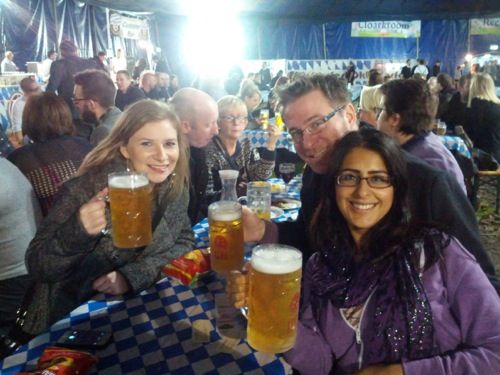 NOVEMBER/DECEMBER
In November the Studio boys marked the 50th Anniversary of Doctor Who with a
new set of caricatures
. Despite an internal argument on whether to include Peter Cushing ("He's not the same character!") and last minute jitters over John Hurt (in retrospect we apparently went the wrong way) I think they turned out great; I'm on stand-by to complete a Peter Capaldi piece once he materialises in costume.
Our donut sortie earlier in the year had been accompanied by an airing of Electric Six and idle speculation about what they were doing now; come November we were seeing them live at the ABC. A good night out. Dick Valentine remains a brilliant but odd front man, tongue firmly in cheek. The support act,
Andy D
, was hilarious.
The tale end of the year came with a deadline crunch. I had a big job to do in Dundee that necessitated a couple of nights away from home and had to take another assignment up there with me. Only when inking something at a desk in a hotel room can you rightly call yourself a pro cartoonist! The trip was made to do yet more more work in the social work sphere. On an evidence-gatherng trip I spent some time at a food bank. There's been many a headline about these of late but seeing one at work - and, more to the point, how much demand there is for assistance - was a timely reminder of the age in which we're living. Dickens would shudder to see how akin to his Christmases our own have become.
There were various other loose ends that had to be attended to within the month and so, unfortunately, I couldn't spare the time to do the usual advent calendar of caricatures. However over the year I have been slowly but surely pushing myself to produce more digital work. And in the period when the "selfie" became so ubiquitous I thought we'd send a caricature Christmas card this year.
Of course we've had the odd bit of bad news here and there but overall 2013 has been very good to us and we have plenty of reasons to be cheerful and optimistic about 2014. It will bring several big family landmarks and promises the largest project I've been involved in for quite some time. Looking forward to it!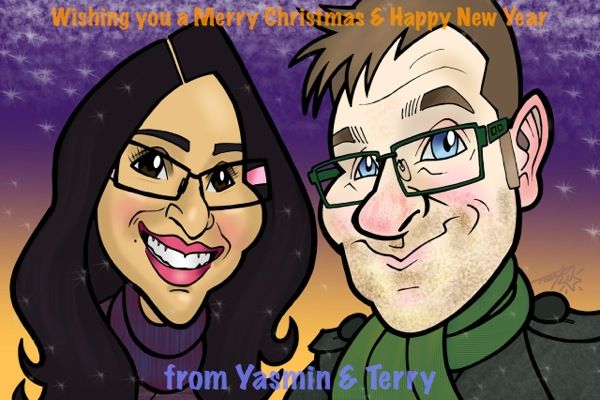 Tweets by @Schism_Schasm
A critique of Warner Bros, Legendary Pictures & Syncopy's Man of Steel by Zack Snyder, David Goyer, Christopher Nolan Nolan and Emma Thomas. Plot spoilers.

In a summer movie season that so far seems to have been defined by the under-performance of star vehicles and uncomplicated fare triumphing over extravaganzas Man of Steel hasn't done too badly, on paper. It doesn't boast any current A-listers in its cast and isn't even called Superman... whatever, yet on the strength of goodwill that's evidently still felt for the character his latest movie's takings have sailed past the half a billion mark. It won't make Avengers or Iron Man 3 money but nor is it a Lone Ranger style train wreck. Warner Bros will be pleased.

But look to the fans and responses vary from tepid to outraged. The last time I was at ComicCon, the floor was abuzz with unbridled glee over The Dark Knight, a movie that took great liberties with established DC Comics characters, was earnest and dark and intense, placed the story within a genre other than kid-friendly fantasy, dialled back use of the main hero's name in favour of an obscure subtitle and went on to achieve unprecedented levels of success. This weekend in San Diego there will be disgruntled mutterings and plenty of snarky humour about Man of Steel despite the fact that key talent from The Dark Knight has returned for this project and all of the above points are equally true of their latest production. Yet it's a two stars out of five picture, at best. What went wrong?

The Superman origin story is well-worn. It was perhaps a mistake to retell it at all, even though from the first minutes of the film Snyder and his team attempt to show us a version of the tale quite different from previous iterations. It's sensible to reveal more of Krypton and invite us to invest in Jor-El and Lara just as Batman Begins gave us greater reason to care about Thomas and Martha Wayne. Interesting to portray Clark Kent as an itinerant guardian angel, not sure what to do with himself. Vital to have the Kents instill a moral sense in the young Clark. The film's first huge misstep is that Jonathan Kent and his death demonstrate precisely the wrong lesson and a laughable one at that. When Glenn Ford's Pa Kent stumbles and falls to the ground before a quick cut to his funeral in Richard Donner's Superman the impact on Clark is crystal clear. "Humans are frail, there's certain things you can't change and some people you won't be able to save; accept that, take what you've been given to do everything possible to help those you can."

When Kevin Costner's Pa Kent is willing to die in one of the most dramatic and unpleasant ways possible, needlessly, over a dog and merely to protect anonymity, the impact on Clark is crystal clear. "Humans are idiots, there's things you can do to help them but they might not like it and you might be inconvenienced; accept that, hide what you've been given, do a bit of good here and there but you'll be hated in any event. Oh and by the way, you could have ran back here superfast, got me and the dog (not even a baby or a sweet old lady, a fucking dog) and no-one would have even noticed in all the chaos of this on-coming tornado. But no, this way is better, this cornball, obvious attempt to pluck heart strings is so much better."

Snyder has been guilty of lapses into sentimentality and shown himself eager to place visual excess ahead of logic in both his previous comics adaptations, 300 and Watchmen. Here these habits grate amid the generally cool palette and somber tone chosen, the prime example being the clunking scene in a church at the end of the second act. That's galling, as it actually makes sense to shift a big screen Superman more firmly into harder sci-fi territory. He is an alien from another planet; irreducible and irrefutable. As Bruce Timm found when making his Superman cartoon series in the nineties, if you don't want to tell tales of an invulnerable demi-god pushing mortal men around and consequently seeming like a bully then you have to look to other planets and further alien foes that form a credible threat to the character. Zod or a similarly maniacal powerhouse character (Mongul maybe or - holds nose - Doomsday) is a good choice for the first film in a cycle as it enables the filmmakers to cut loose, show us the raw power of Superman and therefore the burden he's carrying. Much has been made of the cavalier attitude to human life that pervades the final third of the film, and I'll come to it, but Superman doing plenty of super stuff has surely got to be preferable to the endless scenes of inaction that padded Bryan Singer's Superman Returns.

Making Krypton an Easter Island society advanced in its culture yet hidebound in its philosophy and utterly dedicated to practices that are destroying the environment was a development I enjoyed. The question of why Jor-El and Lara don't leave right along with their son is persistent a loop hole as any in the Superman canon and the film makes a good attempt at closing it. Here we find there's something inherently and dreadfully wrong with Krypton and its people. The Jor-El/Zod conflict over how to solve that problem is certainly about morality and methodology but also chronology. They both want to start Krypton over again but one recognizes that it has to be a completely fresh start, personified in the potential of an un-engineered child. The other just wants to turn back the clock to the good old days and regain an empire, too blind to see the same mistakes will be made on Earth as on Krypton and its innumerable colonies. That's good writing but it gets lost in the din and disaster of the plot.

Like Star Trek Into Darkness earlier this year Man of Steel is poor sci-fi because it wears its illiteracy and inconsistency so firmly on its sleeve. Saying an element isn't on the periodic table to indicate that it is alien just signals that you, the writer, don't know quite what the table is and how it works; likewise a cold fusion device wouldn't actually lower the temperature of its surroundings just because the word "cold" is in there. I rejoiced when Snyder announced that he would be making no use of kryptonite, the sloppy, inconsistent macguffin to end all lazy, nonsensical cop-outs. In this film Superman's powers are neatly explained by his three decades of maturation on Earth exposed to our lighter gravity, more nourishing air and most of all irradiated by our younger sun. The advent of these powers is portrayed as gradual, traumatic, requiring time to master. His weakness is his link to the Earth; take him off world and even more so into an environment that replicates Krypton itself and he gets sick. These are ideas that are new, at least in the cinema, and welcome with it.

But it's all ignored almost as soon as it's set up for the sake of convenience and A BIG FIGHT. Zod and his lieutenants set foot in Kansas wearing suits that explicitly seal them in against the atmosphere of our planet and yet can immediately leap tall buildings etcetera, expressing no surprise, bewilderment, joy or concern. They proceed to tear Smallville (or IHOPville) to pieces pausing only to double down on the bullshit. Suddenly, if these Kryptonian suits are breached the super-powers acquired by the wearer become too much to handle… So we must assume they let in a little sunshine and a bit of air, just enough to make one invulnerable, incredibly fast and strong, but not so much to make you shoot fire from your eyes. Did they know this going in? Frustratingly this could have all been settled by just a couple of extra lines in Zod's tale about the years spent in exile. While visiting all those failed Kryptonian outposts he and his crew could have been exposed to different stars, making them stronger all the while, before arrival on earth pushed them up to superhuman level. Consistency restored. Bring on THE BIG FIGHT!

And so to the final act and the cataclysm that befalls Metropolis (if it is Metropolis, no-one says so). The gravity weapon/terraforming engine is yet more of the semi-solid, vaguely organic tech we've seen a million times before but the to-and-fro, up and down slamming effect it wrought was genuinely menacing and novel (to me anyway). The urban destruction portrayed onscreen pushes against the limits of taste and patience. A whole lot of American films this summer have cities and landmarks being levelled. It's a common enough trope if you look back over the last century as a whole but for some reason the post-9/11, unspoken moratorium on tumbling buildings has well and truly ended this year. Man of Steel does its part. The visuals are expertly realised but incessant to the point of numbing the viewer. Snyder's constant use of crash-zooms and faux hand-held camera wobble don't help. The film never pauses to take anything in and even in its few quiet moments feels fidgety.

Afterward all the shock and awe it's very hard to muster any enthusiasm for the final conflict between Kal-El and Zod, what should be the film's emotional climax. Michael Shannon acts his guts out in these scenes and once the he and Henry Cavill's likeable hero are fighting mid-air and hand to hand everything suddenly feels right; we're watching a decent Superman film for about ten minutes. I'm actually willing to forgive the the much-trumpeted flub of Superman not taking the fight beyond the city and chalk it up to a rookie move by an inexperienced hero. It bothered me far less than the similar protracted fight on the streets of Smallville. At this stage Supes has no emotional connection with the big city and, frankly, it's already a wreck by the time Zod's gloves come off. If this brawl had gone to a depopulated area there'd have been no-one for Zod to vindictively terrorise and no push for Kal-El to make the ultimate sanction. Again, there's nothing inherently wrong with a big destructive fight between two super-beings followed by a smaller confrontation at the end of the film. The same thing worked in Superman II. The difference is whether the film has earned the audiences investment in characters by the time it gets to that conclusion.

This film denies investment through constant contradictions in its plot and leaps - or more accurately, gaps - in logic. After the whole world has witnessed these terrible events, after all the dire warnings Jonathan Kent gave Clark as a boy, warnings he was willing to die in order to enforce and the same warnings Perry White gives Lois Lane about what will happen if the truth is known, after the entire globe has been addressed directly by an other-worldy intelligence, a city's been leveled, as has a rural community, an ocean's been boiled and contaminated, thousands of people have (presumably) died and the sole surviving alien has shown he's willing to kill if necessary… EVERYONE GOES BACK TO WORK. The writers cannot have it both ways. The arrival of aliens is either a game changer for humanity or it isn't. All the US army is willing to do after the chaos is have a single spy satellite tail Superman? Doesn't cut it, not when in the real world they've got drones flying in every direction and are monitoring email and cell phone exchanges. In order to find out who Superman Lois merely had to ask a few questions, retrace a few steps. The town he grew up in is now a flaming disaster area in the middle of wheat fields, you really can't miss it. In fact the military set fire to it as they unloaded round after round, missile after missile, long after the point when it became apparent they had no effect on aliens. If they're worried about the threat Superman represents the whole continent should be in lock down and Ma Kent should be in Guantanamo Bay.

So maybe Snyder and co want to seed a sequel here and save the human response to Superman's existence for the next film. Enter Lex Luthor, perhaps. If that's the case I'm not sure introducing Emil Hamilton here only to throw him away is such a good idea. To return to the Timm cartoon, Hamilton's character was used brilliantly over a long arc, a man initially amazed and inspired by Superman but eventually troubled and finally frightened to devastating effect.

The shadow of Nolan's Dark Knight trilogy cloaks the entire production, from the marked reluctance to use the name of the main character to the liberties taken with supposed sacred cows in the back story and most obviously the overwhelmingly earnest tone. But Superman is not Batman and the same treatment, whatever that may be and dependent upon the judgment of the creators involved, will not necessarily work for both characters. Earlier this year Iron Man 3 demonstrated what happens when too glib a screenplay is deployed while attempting to maintain an audience's stake in a popular superhero character. We are temporarily tickled by the cheek of it but ultimately feel robbed. Joss Whedon's Avengers got it right. Humour doesn't have to mean deconstruction. Man of Steel would have benefitted enormously from some better jokes and fewer ponderous moments of purported gravitas.

Ultimately small boys should leave a Superman film wanting to be him. This one made the experience look so painful and unpleasant that being Batman would seem a breeze by comparison. The movie's main moral lesson is that if you can save you dad's life but he says no, then don't. A failure.

PS- Why is "The Codex" half an old skull? Whose? Why? Huh?
PPS- This film would make Freud blush. Penetration every five minutes.
PPPS- I did like the music.
Tweets by @Schism_Schasm
Slather me in piri piri, top me with an egg and bury me in Portugal.
Having had our fair share of bad news in 2011 Yasmin and I agreed to attack this year with gusto. As the images below might indicate we spent as much time as possible away from home with each other or in the company of friends, enjoying good food and drink. It was also a positive year for me professionally with a definite upturn in evidence, especially in work with young people around the country. A consequence of that, I fear, was greater incidence of illness; I spent far more time off than usual. But looking back through our photos this morning Y and I agreed it's been a great year overall. Certainly one where we've been up for some fun and nonsense.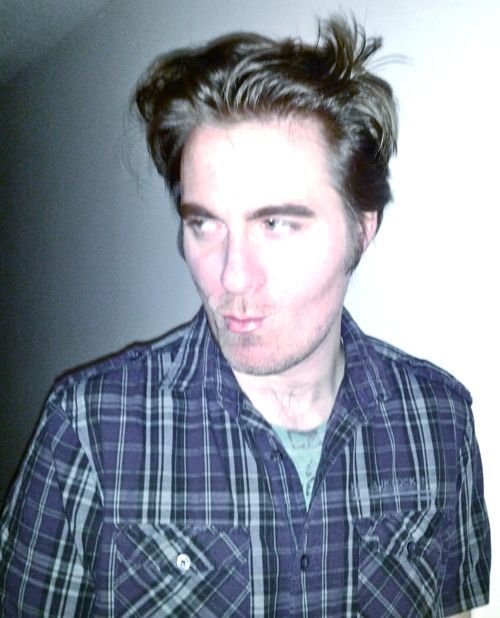 JANUARY/FEBRUARY
I spent a day filming with Tattiemoon Productions for an episode of
Woolly & Tig
a series for preschoolers that's gone on to be a runaway hit. I also ran the first of what would prove to be a long series of workshops around North Ayrshire; my year would be topped & tailed at The Harbour Arts Centre in Irvine. Later I was part of a big weekend of comic book based activities at Glasgow Museums Resource Centre in Nitshill.
MARCH/APRIL
I started work on the
Creative Communities
project in Kilmacolm that would carry through into the weeks preceding the Olympics. I was back in North Ayrshire during the Easter holidays doing superhero workshops in community libraries. I also visited St. Stephen's Primary in Springburn and afterward received a terrific letter concerning the life of a cartoonist.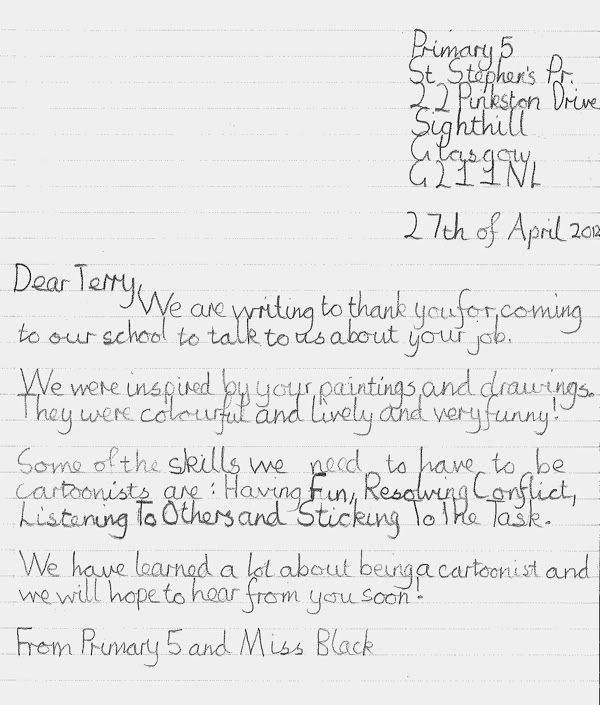 Y and I saw Greg Proops during the Glasgow Comedy Festival, his weekly
Smartest Man In The World
podcasts having become the default soundtrack to our housework. I took the opportunity to present him with a
caricature
.
MAY/JUNE
It's not like us to take a fortnight off, much less to spend it on a beach, but Y and I felt that we were overdue a long summer retreat and so returned to Olhos d'Agua on the Algarve. While we took the opportunity to explore the area - Faro with its stork-festooned, fortified old town and the Capelo dos Ossos where you'll be treated to spooky wailing from the children at the neighbouring nursery; Quarteira and the cheesy but charming pageantry of their Popular Saints festival - the vast majority of the time we just pottered about the cliffs and beaches in a blissful state of laziness, bird spotting, sunbathing or with our noses in books, hoisting beers and wolfing down bifanas. We also worked our way through every available form of seafood. Forget paella. If you want a tasty platter of Iberian grub it's got to be a cataplana.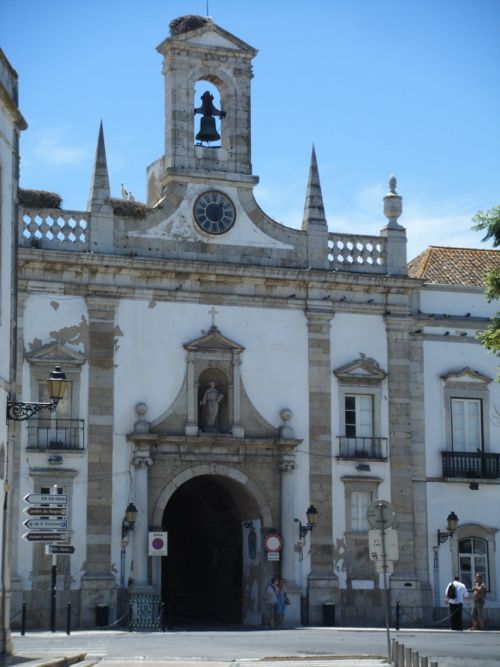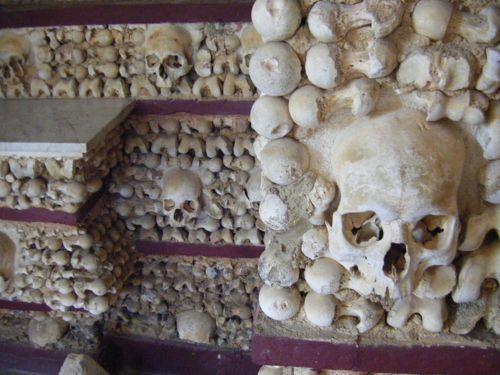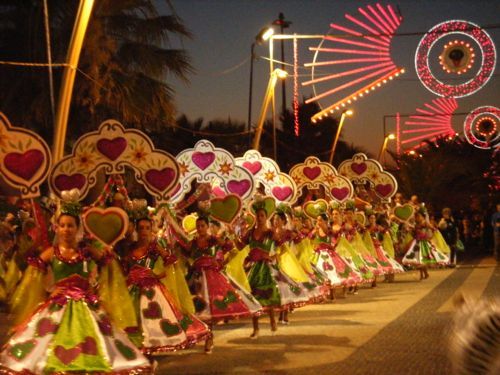 JULY/AUGUST
Thoroughly sunkissed we tried to keep the vibe going with an indoor beach party for Y's birthday, defying the miserable weather that greeted us. During the school summer holidays I was back in North Ayrshire again doing cartoon workshops with an Olympic theme, moving on to do the same around libraries in West Dunbartonshire. I also did a session on comics storytelling at the LGBT Youth Scotland National Gathering.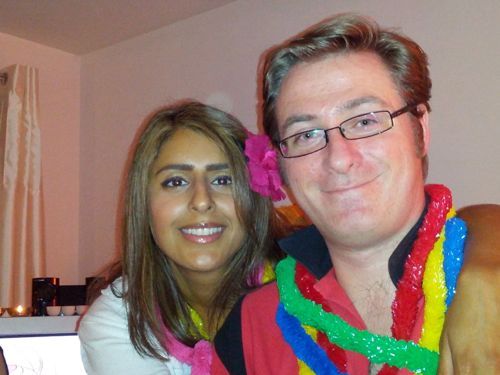 We took a road trip to Liverpool for the wedding of our dear friends Paul & Christina within the confined of the stunning
Athenaeum
, happily coinciding with our own anniversary. Whilst in the city we discovered the glory that is Lucha Libre; one of those places where a mere dish apiece is not an option. This was the beginning of a sequence of events that would bring me back into contact with several folk from my school days. We're reaching the age when most of us have found our niche and are becoming the people that run everything, hence I find people I know of old in increasingly - sometimes alarmingly - responsible positions. It's a funny feeling.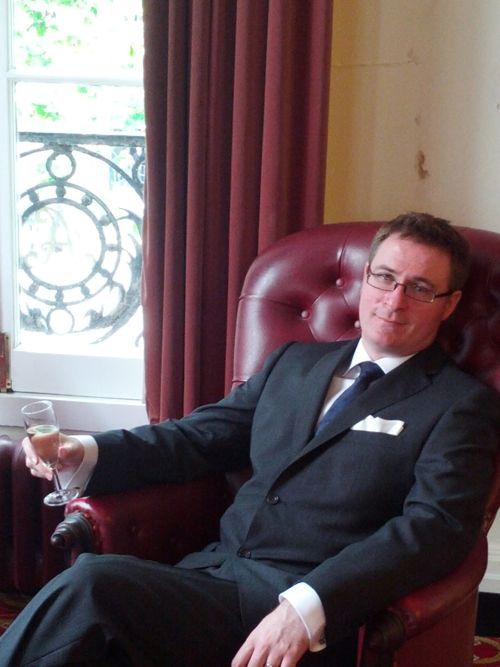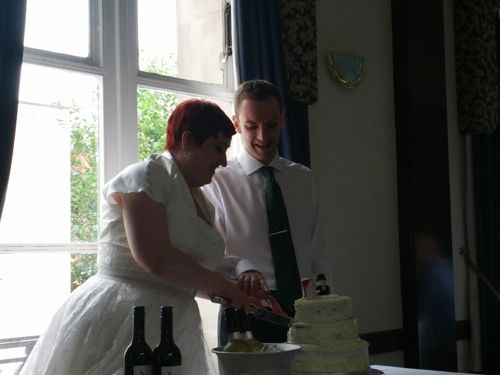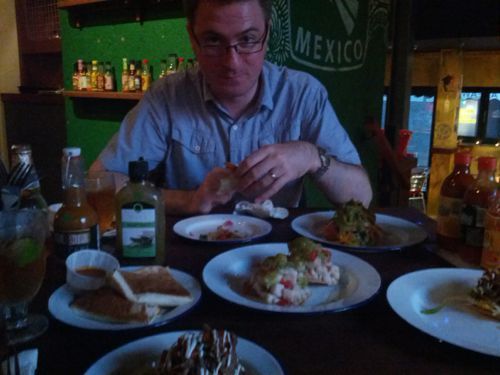 SEPTEMBER/OCTOBER
Yet more work in North Ayrshire but also at the Off the Page Festival in Stirling and the beginning of what looks to be a long-term relationship with
The Haven
in Blantyre. The work here is particularly rewarding as it gives me the opportunity to see the same kids on a regular basis and build on each encounter.
Y and I decided that if we want to repeat our beach-going in future it was high time we both learned to swim. The adult lessons at our local baths went far better than I had expected. We can both swim i.e. propel ourselves horizontally through water using our limbs. What's proving tricky is breathing at the same time. So, in my case, that means half a length of the pool before a complete stop to stand up and get some oxygen. I'm sure the knack will come with practice. We had a great time at a gin tasting event, which introduced us to the strange and wondrous concoction that is
Gin Mare
. Try it, even if you don't like gin because it's quite unlike anything else.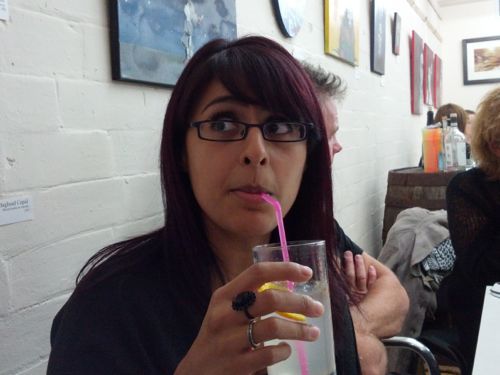 NOVEMBER/DECEMBER
We hadn't been able to take in any of the Edinburgh Festival so it was a treat to catch
I, Tommy
at The Kings in November. Later in the month I returned to the Harbour Arts Centre for the conclusion of the
Every Picture Tells A Story
project. I also received good news after months of hard work on the earliest stages of a major new undertaking that will keep me busy in the months ahead; I have to keep mum for now but rest assured I'll be banging on about it soon enough!
With my grandfather turning 80 this month we enter a happy phase for my family, wherein milestones will come thick and fast. In the next couple of years there will be 30th, 60th & 80th birthdays, Tin, Ruby & Diamond wedding anniversaries and perhaps further reasons for celebration. I was happy that my run of winter illnesses lifted in time for my own birthday and Y's sister's wedding where we partied long into the night.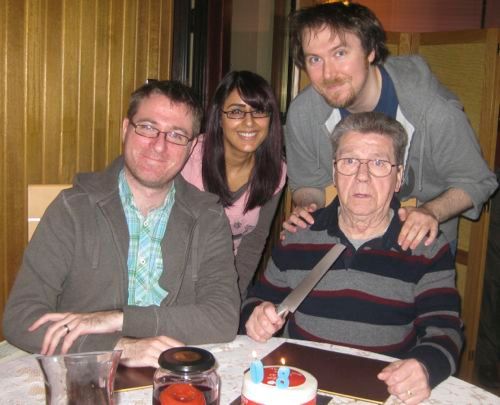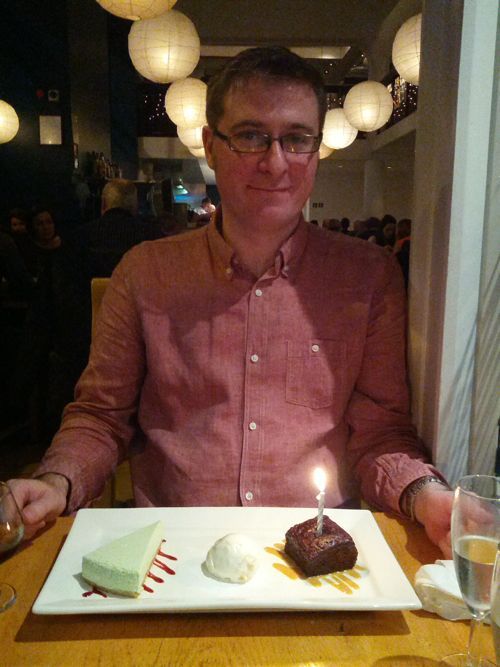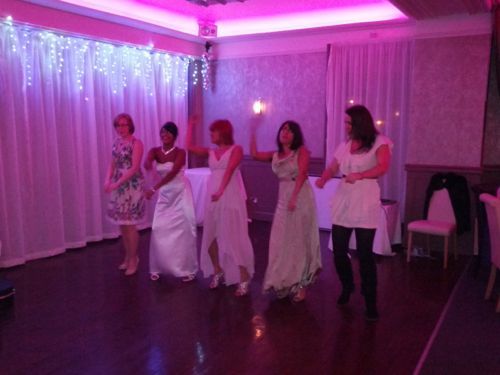 I hope you have the chance to do the same in recent weeks and can look forward to the best of everything in 2013.
Tweets by @Schism_Schasm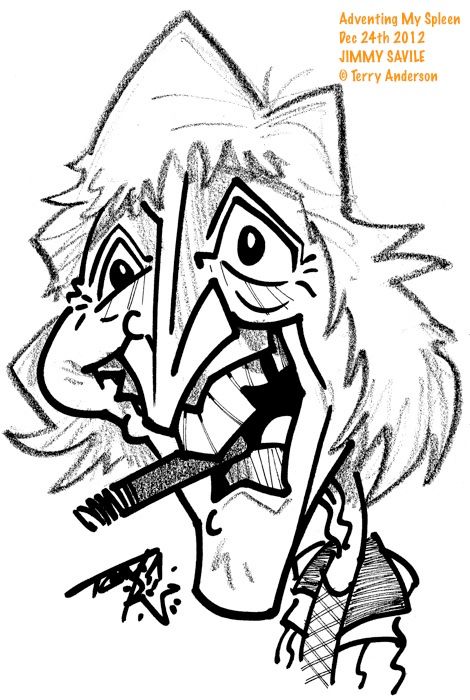 On his darkest day, in his most cynical mood, working on his blackest script Chris Morris would not conjure up a character like Jimmy Savile.
One of the most depressing things you'll ever read is a bald description of the three strands of
Operation Yewtree
. It implies that throughout the Seventies and Eighties there existed in Britain an endemic culture of ephebophilia and a reluctance to accept the existence of paedophilia; if not active endorsement of sexual assault upon youngsters then a resignation to its likelihood. A country where a bizarre if charismatic entertainer could by sheer force of personality walk into hospitals, young offenders institutions, shelters, anywhere the most vulnerable among us were gathered, and indulge his pathetic sexual power games entirely unchallenged. And it seems he was far from alone if arrest after arrest in recent weeks is any indicator.
I hesitate to call what Savile did a grand deception. Comments and actions caught on tape, words from his own books, virtually every aspect of his public persona pointed to their being a problem. We're led to believe that because of all those
charitable donations
, the friends in
high places
, the national treasure status and the persistent myth that this gurning gnome was some kind of hard man sprung from a Mike Hodges film, those few who might have unmasked Savile feared reprisals in his lifetime. The sad truth is they simply wouldn't have been believed.
The pendulum swung too far in the other direction in the Nineties, when paedophiles became the tabloid press' phantom of choice. A balance must be struck, a vigilant but sane attitude to child protection. The situation is further complicated by a creeping paedo
phobia
that entered the mix in the last decade. For many reasons fewer people are having children but some are needlessly militant about that choice and in recent years our government has inculcated the idea of "feral youth". As the catastrophic case in
Rochdale
showed us, "troubled" young women may fare no better now than forty years ago, all too easily forgotten and preyed upon by loathsome men.
Yewtree will run its course and in the fullness of time we'll find where the remaining monsters live. But before then, at Christmastime and all year round, we must talk with and listen to our children.
Tweets by @Schism_Schasm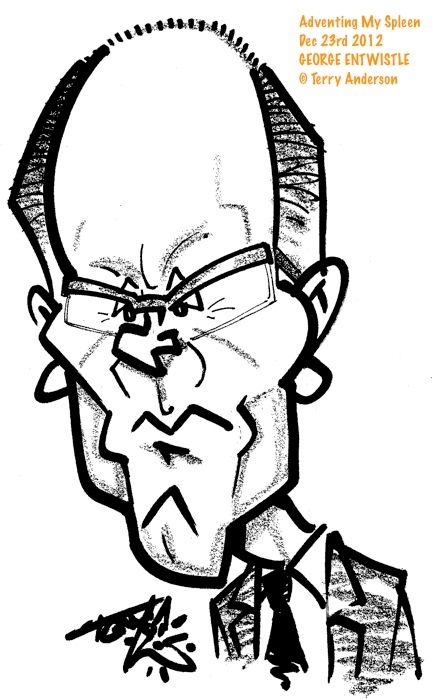 We'll deal with the arch villain of the piece tomorrow, but when BBC's
Newsnight
investigated claims that the late Jimmy Savile was a serial sex offender, late in the day judged the statements of his former victims to be inadequate, shelved the report at the same time glowing tributes to Savile were being broadcast, stood by while the story was eventually broken by an ITV documentary, over-reacted to the resultant criticism by farming out work to incompetent journalists and wrongly stating that an unnamed, retired Conservative politician was a paedophile, watched as Twitter did the job of libelling the innocent party for them, took the blame for an outbreak of insanity in all quarters of the mass media, suffered the indignity of themselves being investigated by another BBC current affairs programme and finally were left in a state of journalistic paralysis, questions were asked.
Quite rightly the questions were asked as pointedly by the BBC themselves as any external interlocutors. The BBC may be many things and its reputation has scarcely ever been in a worse state than it is right now, but no other broadcaster on earth would carry the public dismantling of its own top director in the same fashion as the
John Humphrys/George Entwistle
Today
interview of November 10th. Entwistle, a hopelessly bland and stiff policy wonk, could not survive in his role. But as is the way of it these days abject failure by a top executive was rewarded with a
lavish sum
of money. That stinks and needs to be put right. Furthermore the BBC needs to regroup and come back stronger. We need them. What's the alternative?
This shower?
Tweets by @Schism_Schasm