2015: CAMPAIGNING, CONNECTING, REFLECTING
(and, yes, drinking)
After an extremely busy 2014 with many trips hither and yon I was ready for a quieter year and to attend to a few long-standing personal projects. This was achieved only in part, as several twists along the way found me occupied in some wholly unexpected ways...
JANUARY/FEBRUARY
The year started bleakly with the murders at
Charlie Hebdo
, an incident I'd find myself speaking and writing about from beginning to end of 2015. My initial reaction is
still on this blog
and, as the first anniversary approaches, another essay will appear in the
Sunday Herald
this weekend. One of the first opportunities to process the ramifactions of the murders was at a public discussion orgaised by the NUJ and nascent Scottish news website CommonSpace. Also on the panel was CS editor Angela Haggerty who has found use for
some of my cartoons
since.
The weather was dreich but the mood was sunnier when Yasmin and a friend took part in a promotional photoshoot for Diabetes Scotland. By the end of the year I'd see her face peaking out from under that blue umbrella on many a leaflet, newsletter and online post. One of the "outtakes" from the shoot is the best photo of Yamin ever taken but we're forbidden to share it. If you're ever at our place, ask.
As the winter drew to a close a slip on a treacherous piece of black ice took my dad out of action with a broken arm. We all got a fright, mum especially, and I spent some extra time over at their place in the first weeks of his convalesence.
MARCH/APRIL
It was whilst there that I found out my brother Gerald had quitely got married to the lovely Monika. It's been a great pleasure to welcome her into the family this year.
A few weeks later my cousin Laura wed her fiancé Jamie in the same location and had a tea party with the Scottish side of the family at mum & dad's. In both cases it was good to have something to celebrate after a rocky start to the year.
Work-wise, I made my first trip to the
Shrewsbury Cartoon Festival
, running a caricature masterclass and filling one of the "big boards" on the town square with an impromptu drawing. This was a good opportunity to meet many fellow members of the
PCO
, especially as we had been collaborating on a new book of cartoons in aid of the families of those who died in Paris.
Draw the Line Here
is still available.
Some
Auld Acquaintance
cartoons got a further and (I assumed) final airing at a reception for one of my clients in their new offices. Politics had of course moved on from the indyref to general election campaign and I did quite a bit of cartooning on that front throughot the spring including some live online caricatures during the televised debates using the Periscope app. I had several pieces in an exhibition of GE2015 cartoons at the
Leiper Fine Art
gallery too.
MAY/JUNE
It was a long time coming but I finally got round to putting together a new personal website for my cartoon work. If you haven't already, please visit
terrytoon.com
!
With the site up and running it was time for some holidays. Yasmin and I bolted to our now traditional spot on the Algarve, opting to split the time between somewhere new (Tavira) and familiar haunts (Olgo d'Agua). We also spent a day in Cavoeiro which has definite possibilities for a return trip. The highlight this year was probably seeing my first and so far only genuine wild flamingo on the salt flats of Rio Gilao. Far off, but distinct and unmistakable.
Earlier in the year I had approached Heard Yet? Media, the guys in charge of the
apolitcal podcast
about an interview and my episode went live at the end of June. Once again
Charlie Hebdo
was discussed as well as
The Auld Acquantaince
and Scottish cartooning in general. It would lead to several return visits to their recording room over the summer...
JULY/AUGUST
At table for Yasmin's birthday I made a passing remark about the phonetic similarity between a certain variety of wine and the Glaswegian vernacular for a part of the male anatomy. It is the single
most successful
thing I've ever done on social media. Go figure.
For several weeks we kitten-sat for some friends. It was a great pleasure to have a ball of black & white fur running around the joint again, even if the gangly, hyperactive and spider-monkey like Keiko had an ability to get herself in situations (inside a fridge, atop a bookshelf surrounded by fragile maquettes) that the older, pudgier Converse probably only dreamt of.
Around this time
The Auld Acquaintance
jolted back to life once more for a very final and greatly condensed appearance at the
Festival of Politics
at the Scottish Parliament where I did some cartoon classes for youngsters and appeared on a freedom of speech panel. Festival time in Edinburgh also meant
The Mela
and Yasmin was there doing some outreach work for Diabetes Scotland. We didn't see as much at The Fringe as in years past but made a point of going to Alan Cumming's talk at the book festival, as we'd both devoured his autobiograhy while in Portugal.
And every Thursday night I'd pop into town to record an interview or two with some of Scotland's best cartoonists, animators and comics creators...
SEPTEMBER/OCTOBER
In early September
Drawn Out
was launched. All thirteen episodes are available online and via iTunes etc. Please listen, rate and review it if you can. I think it's one of the best and most worthwhile things I've ever done. And all while something even more important was just getting underway.
While the first episodes of the podcast debuted I was, quite unexpectedly, spending a week in Columbus, Ohio at the
Billy Ireland Cartoon Library & Museum
for a conference organised by
Cartoonists Rights Network International
. The whole story is told
elsewhere
but suffice it to say that while the event was predicated upon tragedy it was a pleasure and privilege to attend and meet some of the most talented and courageous political cartoonists on the planet. Whilst there I accepted a position on CRNI's board. More to come, I'm sure.
And at the same time Yasmin was still doing her bit,
appearing on STV
to talk about diabetes. Shortly thereafter she was admitted for her second laproscopic procedure for endometriosis and so was at home recuperating for most of the autumn. Despite her discomfort it was lovely to be together daily.
NOVEMBER/DECEMBER
The last weeks of the year were busy partly in preparation for potential 2016 projects. All being well I'll be involved in a couple of exhibitions and perhaps another significant gathering of cartoonists.
He didn't spend the last year of his working life quite the way he wanted to, the busted wing haven taken several months to heal properly, but nevertheless as Christmas came near my dad retired and deservedly so after so many decades of graft.
We gathered together with family and friends to enjoy good company and cheer. I dare say we'll do so again this weekend.
Enjoy yourselves and here's to happy, healthy, humour-filled days ahead.
Tweets by @Schism_Schasm
The attack on the offices of
Charlie Hebdo
on Wednesday has been dominating the news since. Like most cartoonists I feel in some way connected to those that died, were injured and terrorised. I can't count any of them as friends but I've exchanged pleasantries with several during my trips to the annual cartoon festival at Saint Just Le Martel. But I do have other friends who knew them very well and are in great pain right now. Ours is a relatively small, close knit profession. We face common problems. Oppression is a constant concern for many. Take a look at the
Cartoonists Rights Network
for the latest on cartoonists in various parts of the world battling legal but unethical censure from their respective governments, suffering harassment from political parties and religious fundamentalists or enduring the possibility of assault, kidnap and assassination.
We work in a visual medium creating bold, quickly read images, fodder the internet thrives upon. Outpourings of grief from cartoonists who wish to express solidarity have come thick and fast and festooned social media in a way that hasn't quite happened following similar atrocities in recent history. To an outside observer it would seem easy to suggest that cartoonists hold their own lives dearer than those of Pakistani school children, Afghan, Iraqi, Palestinian or Syrian war casualties or even the police officers who died in defence of our colleagues (cf
#JeSuisAhmed
).
Firstly, a careful browse through
Cartoon Movement
will demonstrate that cartooning is not a white hegemony wringing its hands in perpetual self-pity over the perceived threat of omnipresent jihadists. We are a diverse group (by nationality at least; could do better on the gender front) concerned about injustice of every stripe. French cartoonists are at the forefront of such initiatives as
Cartooning For Peace
. A recent documentary film about the profession is entitled
Footsoldiers of Democracy
. We're not perfectly attuned and privilege conscious, spotlessly ethical saints and some in our ranks are woefully misguided. But on the whole we do our bit and muddle on, as humans do. Right now we're grieving for some our own so forgive us if we seem turned inward. Rest assured we'll return to the task of holding all our masters to account very soon.
Secondly, the most offensive cartoon imaginable is not a death warrant for its creator, publisher or reader. Implying the staff at
Charlie Hebdo
brought this on themselves with their sustained cartooning about a particularly topic despite threats and bombs is, to me, straightforward and unacceptable victim blaming. There are two groups of criminals at fault here: the callous executioners, these supposedly slick guerrillas who went to the wrong address then terrorised
a mother
and child to gain entry to the second where they executed old men who were putting together a comic; and the war criminals whose grandiose folly brought about the circumstances that allow such stunted, angry, inadequate people licence to mete out retribution.
Thirdly, the point of the attack on a soft but spectacular target was not to stop "blasphemous" cartoons being published (impossible) but to sow discord, push secular France in particular and Europe in general further to the right, making life more miserable for Muslims in this part of the world and thus easier to recruit, ensuring the grisly business rolls on with al-Qaeda or ISIS or whoever cast forever as the righteous victims in an unstoppable culture war. The brainless desecration of French mosques is the first sign of the murderers' impending victory. We can give them no further ground. Everyone's primary concern right now should be maintenance of a peaceful, plural society.
Lastly, freedom of speech and offence.
Charlie Hebdo
's stock in trade is outrage, making scurrilous attacks on religious leaders, politicians, public figures and social mores. I've walked round exhibitions of their notoriously vulgar front pages and been flabbergasted by some cartoons that would never see print in the UK. But every issue I've ever looked through cover to cover was largely punching up - at government, the church etc - not down at minorities. And I can say the same for most every other satirical publication I've ever picked up on the continent. Take a dozen decontextualised cartoons, slap them together on a web page and cry "racist" and I fear you're making the same kinf of mistakes certain imams did
over a decade ago
.
HOWEVER - as a reader my French isn't good enough to take a truly nuanced view of
Charlie Hebdo
. If Francophones want to tell me it's an out and out racist hate rag I'm willing to listen. I'll be saddened and wonder why such material is happily displayed and celebrated by people I know for a fact haven't a prejudiced bone in their body but once again concede I could be missing something. From where I sit people like the late Charb or Tignous played a game of self-conscious mischief, drawing lumpen grotesques in absurdly scatological milieux intended to be taken seriously on no level whatsoever. But others, particularly people outside of France most of whom had never heard of the magazine until this week see hair-raisingly racist, homophobic or sexist trash.
The trick, maybe, is to realise we all have a particular point of view. That we may agree to disagree. And that freedom of speech may be more hard won privilege than universal right but that no right exists to murder our fellows under the pretext of offence.
Liberté, egalité, fraternité. Vive la France. As-salamu alaykum. 'Mon the cartoonists.
It's with a very heavy heart and for the worst reasons that I find mysef writing about French cartooning again so soon after the end of my happy travels around Europe last year.
Tweets by @Schism_Schasm
Wherein Plan B delivers an A+ year
- or -
Scotland says "NO", Terry says "OUI"
Like most Scots my year was shaped by political events. In the spring of 2012 I began working steadlily and privately on an international cartoon exhibition to take place across two venues and themed around 2014's referendum on Scottish independence. My trip to St.Just-le-Martel last year (and mentioned in my previous post) was in no small part to talk with my friends at the Centre International de la Caricature du Dessin de Presse et d'Humour about a planned showing of the work in their space as well as taking the opportunity to get written details of the project out to as many European and world cartoonists as possible. If you didn't see The Auld Acquaintance or read anything about it during its run there's loads on the Scottish Cartoon Art Studio's site. I won't reiterate every point made over there but suffice it to say that when the year began I knew I had a lot to do but little idea of how far I'd be going...
JANUARY/FEBRUARY
The exhibition's success depended upon the cartoons being gathered in time to be reviewed, edited as necessary and prepared for display (the French show would open shortly after Easter) but left late enough to reflect as much of the detail of the unfolding debate on Scottish independence as possible. By January it was fairly common knowledge that I was looking for cartoons with the specifics being circulated by various cartoonist organisations. Emails started to arrive from unexpected locations: China, Kazakhstan, Ukraine. At this early stage I was getting some very good if broad cartoons as well as others beautifully executed but wildly off topic or inpenetrably cryptic. Others still were completely unusable. The nadir was probably a Greek submission that included a lot of Swastikas, urination and digs at Barack Obama but not a thing about Scotland, all drawn in a style that indicated deep mental disturbance.

Come February I was getting daily responses from cartoonists far and wide. Any qualms about the earliest responders were allayed when a fantastic bundle of cartoons came in from Dave Brown, the first of the British press' major talents to get in touch. Before the end I had more than 300 pieces of work to look at and wittle down to a polished, balanced exhibition.

At the same time I had kicked off the year doing illustrative work on a government-funded project pertaining to type 1 diabetes in young people. This is obviously a subject close to my heart since Yasmin's diagnosis and I'm always happy to get involved. At this time I also produced some premlinary designs for a children's tv character which has already made its debut. Like a lot of the work I do these days it all remains embargoed. A bit frustrating when you're trying to drum up interest from others... More on that score later.

MARCH/APRIL
As the winter ended I began my third run of weekly workshops for young people at The Haven, Blantyre. The centre offers respite to families affected by terminal illness. From my point of view the trick is to keep things light and fun but, given I'm seeing the same faces over several sessions, have them feel as if there's progression so as to avoid boredom. I greatly admire the regular staff at the centre who provide an invaluable service to their visitors.

I attended the Issue 1 Symposium in Glasgow, casting an academic eye over the resurgence in independent comics in Scotland and especially Glasgow in recent years, with many small press artists and writers now managing to put out considerable volumes of work and participating in a healthy number of marts, meetings and conventions of all sizes. I hesitiate to call this movement "underground" as that implies a political, anti-establishment stance that is now largley irrelevant; the generic divisions and publishing strata in comics are increasingly porous, best exemplified by Neil Slorance and Colin Bell's leap from their own books to Doctor Who.

The symposium was instructive but as is often the case many participants were too concerned with "comics" as objects, printed or digital, and the distribution/retail thereof and not Comics, the medium of conveying information through sequences of pictures. I work professionally in Comics but I don't make "comics" and daresay see more money on bespoke non-fiction projects for tiny audiences than most who try to punt a new fantasy or scifi book on the marketplace. I'd like to hear more about the many different aspects of the medium at next year's Comics Unconference and most especially see them borne in mind if the mooted comics academy in Glasgow materialises.

Incidentally I was disgusted when the rep from Creative Scotland at the symposium stated that she didn't know anything about the needs or wants of comics practitioners. As usual it seems CS sees no problem in professing its support and admiration of a vital Scottish artform while making no effort whatsoever to research it. Perhaps I was in a newly militant mood with news having reached me of the establishment of a new trade union for visual artists in England modelled after the continuing success of the Scottish Artists Union. In many ways the AUE has a much tougher row to hoe than the SAU but I note with interest that their arrival has been hailed by all the other creative industry unions south of the border. If only certain people among their Scottish counterparts were so minded. Solidarity, brothers and sisters.

And so on to St.Just-le-Martel for the first showing of The Auld Acquaintance, mere days after the seismic events of the French elections and a lurch right in even the most redoubtably socialist parts of the country, the Limousin region included. After many months of planning it was fantastic to see the exhibition in situ at the Espace Loup. Before the formal opening there was a chance to do some drawing with children from the local after-school group, who had provided us with a charming Nessie model. Then a bit of speech giving and the
usual lashings of good French cuisine. A great start to the exhibition.
Enthused for political cartooning in general and motivated by the onward march of the right across the continent I joined the Cartoon Movement. I think collective efforts like this are important and a big part of cartooning's future, at least until such time as news editors realise that rather than an extraneous luxury cartoonists are essential "viral content generators" and put us front and centre on their web platforms.

It had been a while since Y and I were at a good wedding and we were delighted to attend our friends Allen & Julie's beautiful day at Quarriers Village in April and I was honoured to provide a reading before the ceremony. Later at dinner, Y was chatting with her neighbours at our table about work and found one was in a band. Y commiserated about the challenges, frustrations and low pay of a creative career, missing that the musician in question was Bob Hardy of Franz Ferdinand...

MAY/JUNE
Not long after getting back from France I was informed that the local venue I'd been collaborating with for over two years could not host the exhibition in August as planned. I have no axe to grind on this point; the people I worked directly with are blameless. But little more than three months out from the intended opening date the decision handed down from on high left no time to find a comparable arts venue in the city. In a normal year things would have been booked up twenty four to thirty six months in advance but with the imminent Commonwealth Games and the referendum campaign in full swing there was added pressure on all spaces in the city.

There had been other projects I wanted to get off the ground in the summer, assuming I'd be on the home straight with the Glaswegian exhibition. These were now abandoned as I went into crisis management mode, phoning every contact, former colleague and old friend I could think of with cap in hand. Two things happened in quick succession:
- Luke Dodd of The Guardian offered the exhibition space he manages their HQ in London, very generously reorganising his schedule to accomodate us before September's vote
- Ermengol, one of the Catalan cartoonists who'd been corresponding with me proposed a showing to take place in his hometown of Lleida in the autumn
So for a while it looked as if the French, English and Catalans would get a look at the show but not the Scots!

Things got pretty fraught in May. Y and I had scheduled much-needed work in our bathroom and kitchen which went ahead while I was sitting by the phone waiting to hear back from various museums, galleries and libraries around Scotland. At the same time the Studio was hitting its 15th anniversary and there were a number of things to do, not least of which the launch of our new live digital caricaturing service. And the pressure was on to sort things out before leaving for summer holiday, booked a little earlier than previous years to allow me to be available for the installation of an exhibition that had now been cancelled. I really didn't want to spend two weeks away worrying about whether or not there would be a Scottish showing at all.

Into the breach stepped Ewan Kennedy and Niall Campbell of Leiper Fine Art, a brand new space in the centre of the city. With no repuation to speak of they hadn't been on my radar but after visiting their gallery I was confident in the gentlemen's ability to provide a suitable alternative. The day was saved.

And so off to the Algarve with a clear head, this time splitting our fortnight between the bigger town of Lagos and our perennial favourite haunts in Olhos d'Agua.
We always eat well in Portugal but on this occasion I was particualrly taken with A Petisqueira, Lagos where the goat/sheep's milk cheese and honey starter and cold octopus salad were exquisite.

Back in Glasgow there was an early preview of images from the exhibition at the SAU's evening of referendum debate, whetting my appetite for the weeks of work ahead.
JULY/AUGUST
Into the final stages of preparation for the exhibitions in London and Glasgow. The staff at
The Guardian
were a pleasure to work with and naturally able to lay their hands on material from their own archives that I wouldn't have got otherwise. This meant that
AuldAcq
was shaping up to be a different show in every locale, with at least a few cartoons exclusive to each iteration of the show. Being our "home game" the Glasgow show would have material from the Studio team not included anywhere else. By this time we had been joined in our efforts by Paul Holleran of the NUJ who provided some much appreciated sponsorship to assist with publicity and display materials. The details of the Lleida show were finalised to take place after the Scottish vote but before the Catalan independence referendum (eventually a "consultation") in November. And the
French wrote to say they would repeat the exhibition at the University of Limoges later in the year. Over the summer AuldAcq went from being a semi-lame duck to a five-headed beast in very rude health.

Glasgow was abuzz as the Commonwealth Games arrived. My scepticism concerning the city's managing bodies is robust and while I'm sure we've yet to fully discover what's slid into disrepair while money was pumped at the Games, I have to admit that the atmosphere in the city was wonderful while the event itself was taking place. Not usually one for sport I had never the less enjoyed watching the athletics during the London Olympics and so put our name in for tickets at the start of the year. We got our first choice of tickets, an evening of track and field events at Hamden, the highlight of which was the women's 10,000m final. It was thrilling to see Scot Beth Potter just pipped for fourth place by England's Kate Avery after vying for a spot behind the unbeatable Kenyans all the way and both acheiving personal bests in the process.
And it was terrific to return a few days later and draw competitors, staff and volunteers in the Athletes' Village. For over a year I'd been saying I'd take it as a personal failure if the Studio didn't play some part in the summer's events so it was very gratifiying to be brought right into the heart of it all and be the only cartoonists involved.
For some time Y had wanted to see
Madama Butterfly
so for her birthday we got tickets for a production at the Theatre Royal. This was my first true opera. To my eyes the Glasgow crowd seemed more than a little eccentric. At least one couple dressed for The Rocky Horror Show. There were a number of children who looked like Wogan era Lauren Harries. At final curtain the tenor playing Pinkerton was roundly booed.
There was a big family gathering in Paisley as the summer saw my mum retire, celebrate her ruby wedding anniversary to dad and turn sixty. Wonderful to see the old house packed with people.
One month out from the referendum it was time to get the exhibitions underway. London took care of itself under the charge of Luke and his team but Glasgow required some late nights and dollops of elbow grease since Ewan and Niall run the gallery alone. There were some hair raising moments in the very final hours but everything was in place when required, even if some it was held together with duct tape.
After getting the Glasgow show up and running we took a trip down to London to see their version and meet Luke and some of the cartoonists from that end of the country. Y and I also seized the chance for a quick jaunt to Paris for our 10th wedding anniversary. Montmarte was where we honeymooned and it still has a firm grip on our hearts.
SEPTEMBER/OCTOBER
In the last weeks before the referendum I wanted to spend as much time as possible at the Leiper gallery. The only commitment that kept me from it was a return to the Off the Page festival in Stirlingshire for more primary school workshops. The organisers always look after their contributors very well and I'd be happy to make this an annual fixture if they'll have me; the children in Bridge of Allan and Dunblane were delightful.

Meanwhile Y took part in the Race For Life: Pretty Muddy event on Glasgow Green. Running ain't easy for her these days so I'm especially proud when she does any.
Had the Glaswegian version of AuldAcq gone ahead in its original venue there would have been an extensive educational dimension to the show. I wanted to retain as much of that element as possible and so lined up a programme of talks at the gallery. From my own point of view this was a good way to get better acquainted with some of the cartoonists involved. Two events stand out in particular.

The night with Greg Moodie (and music from Zara Gladman) was a clear illustration of how the Yes campaign worked at its best; non-party but politically minded creative people with a sense of humour as well as a social conscience reaching out via new media and gathering a loyal, enthusiastic following. It surprises me not in the least that Greg has since landed a spot in The National. His work might not be the epitome of classical cartooning but its fanzine aesthetic is very Yes: frenetic, eclectic, anarchic, the same spirit that manifested in George Square in that last week before the vote.
At very short notice Cinders McLeod was able to join us from Canada, helping to address the dearth of female cartoonists in the show. It had been quite a while since Cinders was in the city but the turnout to for her talk indicated she's still held in high esteem here. In recent years she's rather fallen out of love with cartooning. I hope her trip here helped show that there's some life in it yet.

Polling day came and went. The year's efforts had been predicated upon plans for a scupulously balanced and neutral exhibition*. So as to avoid accusations of partiality and not influence the submitting cartoonists I had expressed no opinion on the question of independence whenever asked and at no point did I truly expect it would be achieved. Never the less, the morning after I was thoroughly scunnered. Tracy McVeigh of The Observer happened into Leiper and the poor lass was hit with two and half years worth of unvented bile. My quote at the end of her article from that weekend sums up my feelings.

* Of course there's no getting around the prejudices of an impartial viewer. At one point George "have you no decency, sir" Galloway was persuaded to step into the gallery and, I'm told, took a huff.

Shortly afterwards I had to go to Aberdeen, bigtime No-voting country, for a booking at an energy industry event. This was probably the single most extravagant bash I've been involved with outside of a certain millionaire's birthday party. Despite the recent headlines about oil I find it hard to see what these folk fear in the proposition of independence other than maybe having to pay more tax. Throw fewer parties, forego the champagne and caricaturists. I'll gladly take the hit if it means living in a better, more just society.

On to Catalonia then with my tail between my legs. Ermengol, his familly and colleagues were wonderfully gracious hosts, the exhibition was laid on in unquestionably the most beautiful of all five venues albeit for the briefest run and Lleida proved to be a fascinating spot, snails and all. I know I'll be working with these people again, if only to ensure I taste the astonishing patatas bravas at the Bar Bodega Blasi once more.
There were Esteladas draped from every residential building in the town and so too in Barcelona where we caught up with old friends Jo and Alan. Y had a much better time in Barca than on a previous visit and we both agreed it's a city we'll return to. It's come on leaps and bounds in food and drink, especially small batch beer.
I found that everyone I spoke to in both towns on the topic of independence, for or against, sincerely wanted a binding vote on the matter. None of the "waste of time and money" argument so routinely bandied about by the Better Together partes here. I came to understand that while the outcome of the Scottish referendum was not what some would have wished the more important point for the Catalans was that it happened at all, peaceably, legally, with mutual consent from the governments involved.

And as I travelled on to Limoges and spoke to politics students at the university I realised moreover that Europe as a whole had been looking at us, the way we conducted ourselves this year, the huge number of people who came out to vote in September and the events since, particularly the surge in party membership and the swing in stated voting intentons and will hold the Scottish democratic experience as an exemplary model in the years to come. We have much to be proud of.
My European travels began and ended in France. In the intervening time Gérard Vandenbrouke had weathered the upheaval that ensued after the elections and gone on to become president of the entire Limousin region. And so it was slightly surreal to sit in my hotel room and watch two or three news reports in a row featuring his face, then get picked up by him fifteen minutes later for dinner in his house. Gérard and his wife as well as his friends and colleagues in St.Just-le-Martel have been excessively kind to me and mine over the years. His baby, the annual Salon of cartooning has expanded into a rolling programme of events across the surronding area with a permanent exhibitions space as the hub. As his political star ascends I imagine he'll have to step away from a hands-on role at the Salon. I sincerely hope his legacy is maintained. It means a great deal to cartoonists all over the world.
NOVEMBER/DECEMBER
An unexpected visit from my dear old brother in arms
Scott
along with his sister, nephew and neice was a Thanksgiving treat.
November brought a spike in work demands, complicated by a week or so of illness thereafter that was probably inevitable after a long year of running around. I cleared as much as I could before the Christmas break. Again a lot of this material will not be seen by anyone outside a specific group of people. I can't complain about the jobs I'm lucky enough to secure but over the last twelve months I've become increasingly conscious of the small number of drawings I'm doing for my own enjoyment and that I'm free to use as "portfolio pieces". There may or not be an exhibtion in the offing next year but if there is it certainly won't be on the same scale as
AuldAcq
. I intend to put aside more time for developing my work.
And more time with my beloved partner and, over this last year, enthusiastic travelling companion. As usual Christmas has offered a bit of time to reflect and catch up. We got ourselves just one present, a piece of work from the exhibition by Iain Green. Sums it all up, really. We've sallied forth on an adventure, hare brained in places. Who knows what vistas we'll see in 2015? Onward.
Tweets by @Schism_Schasm
Putting things in our eyes and bellies and brains.
Buckle up. It's been a big year!
JANUARY/FEBRUARY
I had spent a great deal of 2012 working with kids in North Ayrshire and there was a final run in January, helping pupils at a
Kilbirnie
primary school create a giant comic strip. It was challenging; the class had come up with a story based on a local myth which involved ghosts and time-travelling astral projection, all presenting a bit of a continuity nightmare.
Yasmin and I celebrated fifteen years as a couple at a hotel in Luss on Loch Lomond. Mid-week and off-season, it was great to have the spa and pool pretty much to ourselves.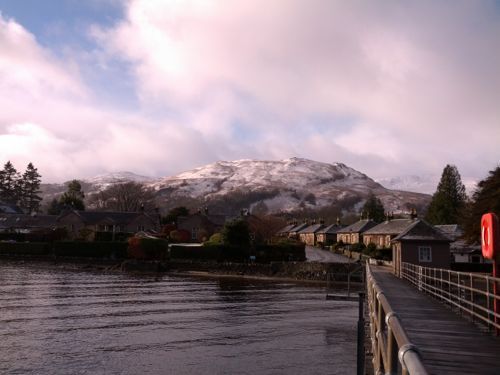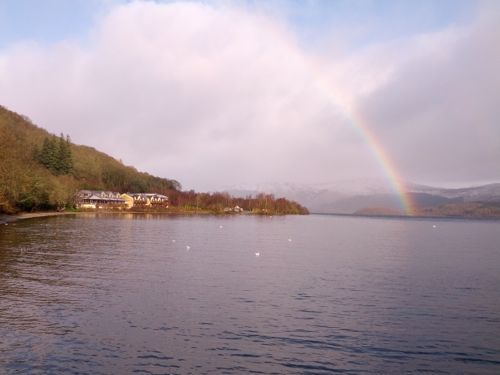 The Glasgow Short Film festival enabled us to catch animator
Don Hertzfeldt's
"Bill" trilogy presented as one feature,
It's Such A Beautiful Day
. It's a fantastic piece of work, hilarious and heartbreaking in parts. A must-see for anyone with an interest in mental health. We also enjoyed Kristy Guevara-Flanagan's documentary on
women in comics
.
A comic I'd illustrated on the bedroom tax was distributed by a Glasgow
housing association
; the first in a whole series of public sector jobs this year.
MARCH/APRIL
By wee brother turned 30. He's not big on birthday cake so we did on overnight donut run to the always-beleaguered Krispy Kreme shop in Edinburgh.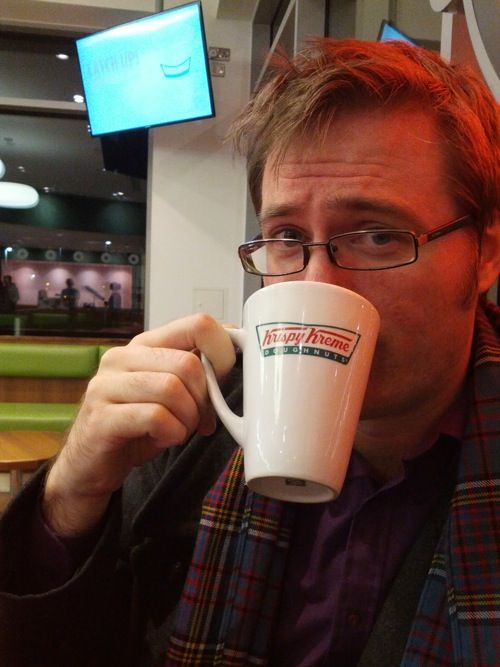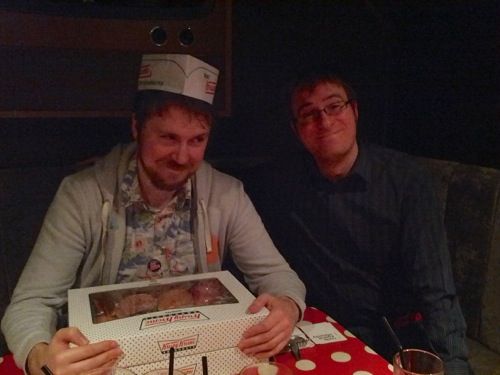 And for my sister-in-law's birthday we braved the chilly air did a spot of "glamping" in a wigwam outside Stirling.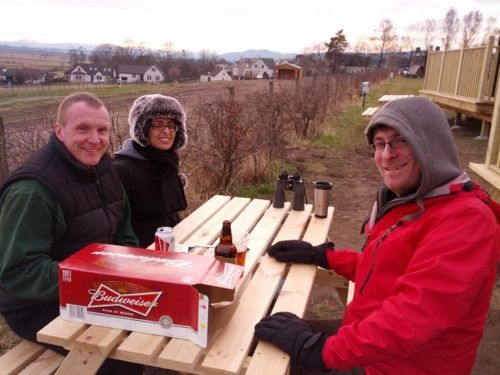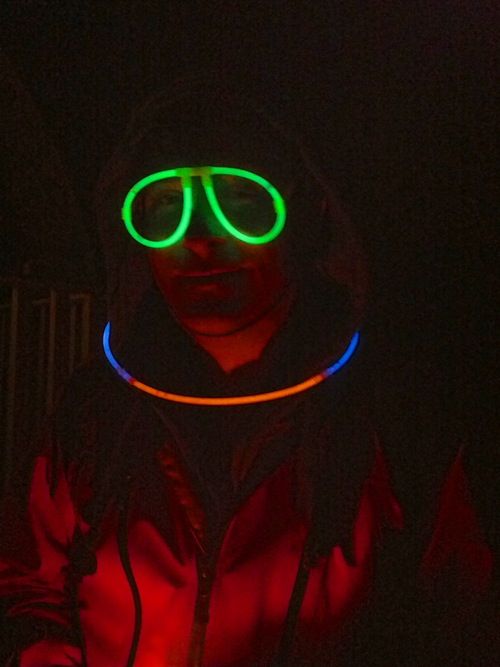 I'd spent most of February and March working on another big comic project; it fell at the last hurdle and while I was well paid for what I'd done, the work will as a matter of necessity never see the light of day. It's frustrating when these things happen but sometimes they can't be avoided; in any event, there was other high-profile "stripping" to come later.
The long drawn out saga of Creative Scotland trundled on. The widespread revolt by artists from the end of last year had led to a series of open sessions and I went to the one held in Easterhouse. I was particular impressed by filmmaker
May Miles Thomas
and her dire prognosis on CS's support of screen media, another criticism that has been
thoroughly borne out
despite the subsequent installation of a new chief exec. On a side note, the previous incumbent seemed to exact revenge on Scotland by securing City of Culture status for Hull over Dundee.
In April I was accepted as a member of the
Professional Cartoonists Organisation
, an ambition of long-standing. I've enjoyed it so far. It's certainly allowed me to converse with some wonderful cartoonists from all over the UK.
MAY/JUNE
Summer being pretty consistently my busiest time of year we took an early holiday and our third trip to the Algarve. This time we split our fortnight between the fishing town of Alvor and our old favourite Olhos de Agua, also finding gaps for day trips to the historic fort at Silves and the market town of Lille.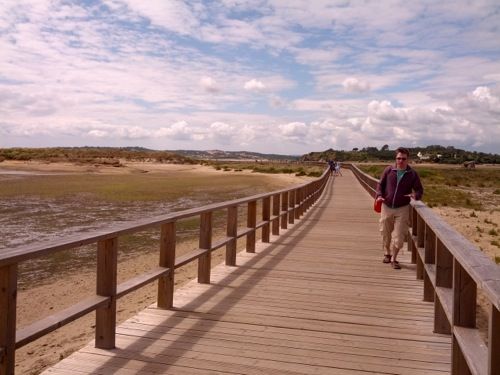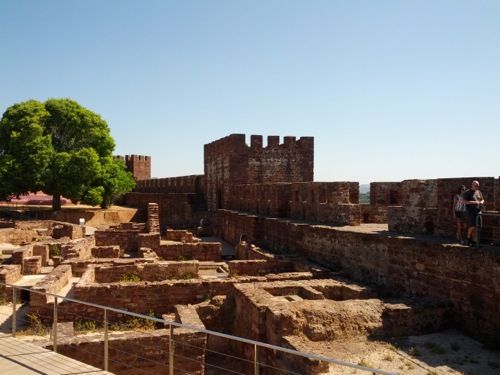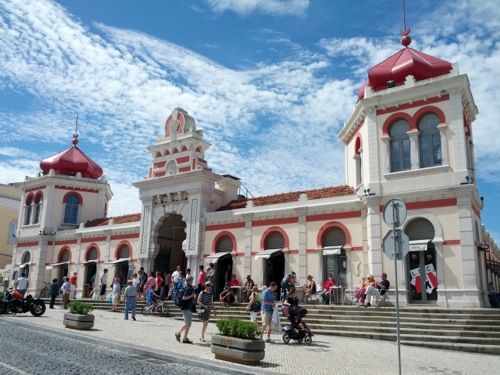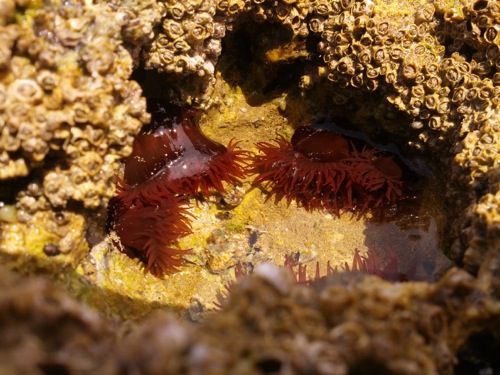 Alvor sits on an estuary that is an important spot for migrating birds but they were in unusually short supply, the very wet winter having knocked the change of seasons off a little. However the landscape was much greener than usual. I still managed to bag a few firsts, especially when exploring the extensive Ria Alvor boardwalks. And we even saw some freshwater turtles. Needless to say the gastronomy was as great as ever. I doubt there's any fish left after we leave. We'll be back.
I returned to
The Haven
for another series of workshops with the young people who spend afternoons there, getting some respite from family circumstances affected by terminal illness. These always put me though my paces. When you're meeting the same group for the eighth or ninth time you can't rely on your well-worn repertoire of anecdotes!
I was pleased to see Steven Camley's first and long overdue
solo exhibition
. As far as I'm concerned Camley can go toe-to-toe with the likes of Steve Bell and Dave Brown. I'm bagged as to why The Herald don't make his cartoon available on their website and, beyond that, why there isn't a book each and every Christmas. He's only won Cartoonist of the Year, what, ten times?
We went to a big-screen live broadcast of
The Audience
. Great entertainment for a politics geek but also fans of quick-change artistry. The first time Helen Mirren's Queen Elizabeth transformed from one age to another was greeted with audible gasps.
JULY/AUGUST
For Y's birthday we dined at
Chardon d'Or
. Between Portugal in the spring and France in the Autumn we had a very foody year but this was the highpoint. Over an eight course tasting menu and wine to match there wasn't a single item I didn't at least like very much and a few things that were transcendentally good. Brian Maule is a wizard.
Sky Arts rolled in to Glasgow with their
Portrait Artist of the Year
show and the Studio provided caricatures for visitors to the Kelvingrove as well as workshops for families. There's still a
clip online
but be warned the HD camera is not kind. At times, it looks more like footage from the Mars Rover.
August means Edinburgh and The Fringe and we took in quite a lot this time: surreal blather from Tony Law; sweet and silly stuff from Big Howard & Little Howard; very clever meta gubbins from Dan & Dan (which included a bit of audience participation from Y, who Dan clearly fancied); chaotic nonsense from Peacock & Gamble; a loose but loveable set from Susan Calman; a typically classy and barbed hour with Greg Proops; and the hugely impressive mythological paintings of
Paul Reid
. Also at the Book Festival we heard a great talk by Ruby Wax on mental health and "mindfulness". We also went to the Chris Ware and Joe Sacco event at the comics-centric
Stripped
strand. Yasmin took the first comic of Ware's she bought and got the big man to sign it. I got to
quiz him
too.
Far and away the pinnacle of our trip was
Blam!
, an astounding Danish show that combines acrobatics, choreography, puppetry, mime, stage craft, set design and movie tropes to unique effect. See it if you can.
My grandparents celebrated their diamond wedding anniversary and we had the largest family gathering in quite a while. It was great to see these two in fine fettle. And those who witnessed it will not soon forget the McBeth men's rendition of "Delaney's Donkey".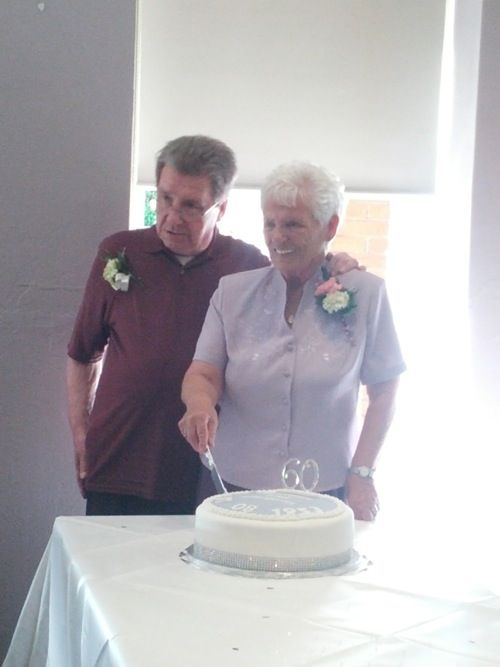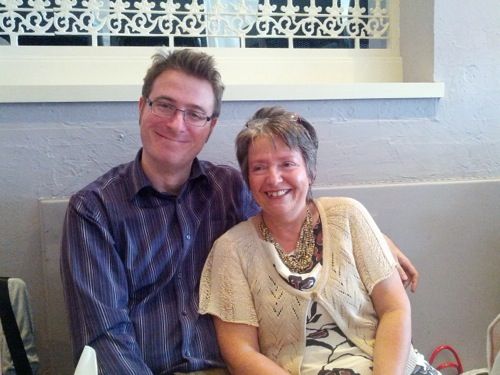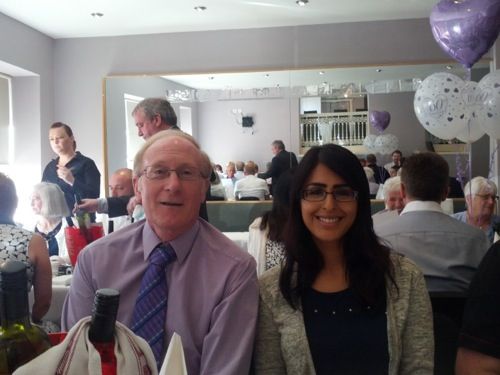 Our anniversary rolled around too, so we decided to opt for a light meal. Just a wee bit of sushi…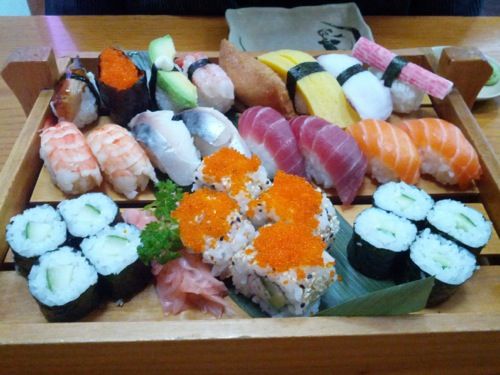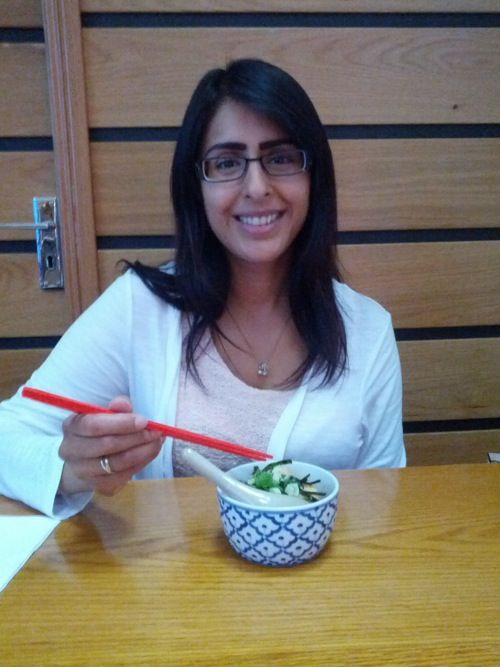 SEPTEMBER/OCTOBER
Given the recent change in our family circumstances it was a delight to provide cartoon strips for
Just DUK 1T
, the new Scottish website devised by and for young people with type 1 diabetes. The
launch event
The Lighthouse included a massive print of one of my strips.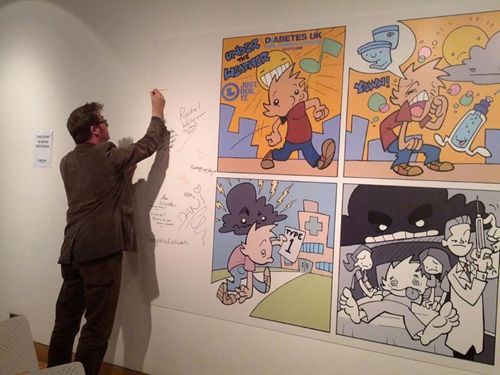 The autumn brought work for two more great organisations,
Who Cares? Scotland
and
LGBT Youth Scotland
. You see a lot of commentators decrying young people but spending time with all these folk would set them straight.
We hopped over to St.Just le Martel for the 32nd
Salon International de la Caricature du Dessin de Presse et d'Humour
. There's a thorough account of this busman's holiday over at the
Studio's blog
. We took some time out in Limoges too, pottering about the medieval town centre and visiting several amazing restaurants but especially the
Pont Saint-Etienne
where you can rely on a wee touch of theatricality or visual flair with every dish.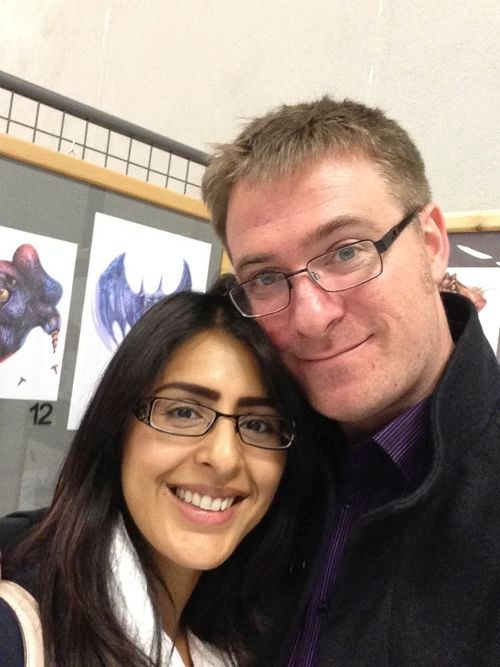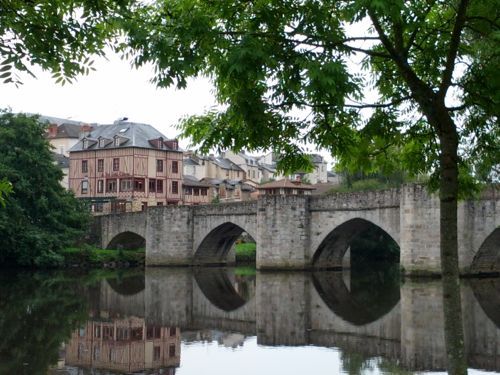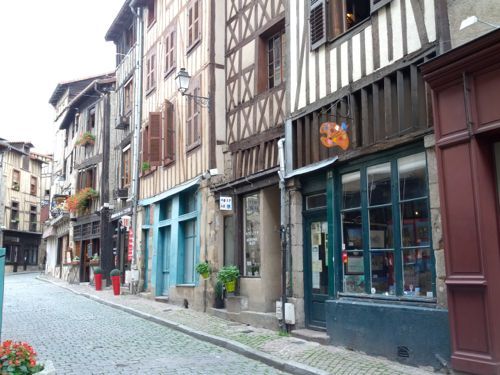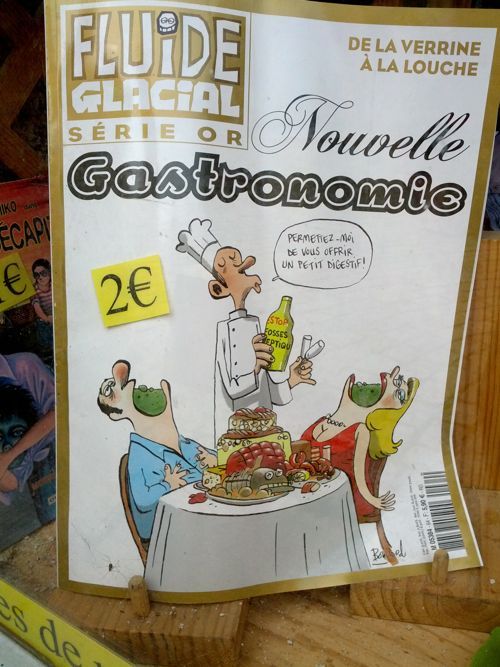 On a more sombre note we took a trip to the museum and memorial at
Oradour-sur-Glane
. The village's tale is tragic, a vindictive massacre enacted by Nazis at a point in the war when the tide was turning against them, a crime that has never been satisfactorily resolved or justice properly done. Only a week or so before our visit the German and French Presidents had been, the first such public acknowledgement to occur. We think of these events as ancient, the stuff of pulp fiction. But the preservation of what remains of Oradour, right down to cars still parked in the spots they were left hours before their owners were killed, brings it all into shocking relief.
Back in Scotland we had a full dance card. To the new Hydro venue, where we heard a concert of Danny Elfman's music from Tim Burton's filmography. The man himself was in attendance and performed virtually every number from
The Nightmare Before Christmas
, an
early festive treat
. Then to the GFT for Adam Buxton's BUG show, another persistent itch finally scratched.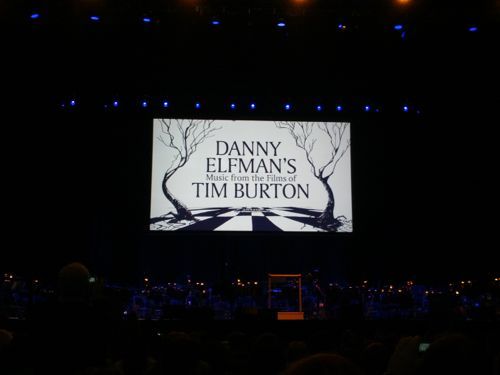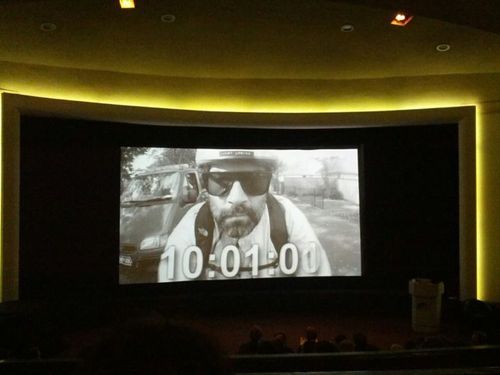 And a trip to Glasgow Green for Oktoberfest. Not exactly the authentic teutonic experience - hot dogs don't count as wurst in my book and the crowd were most roused by a performance of "Sweet Caroline" - but a good laugh nonetheless.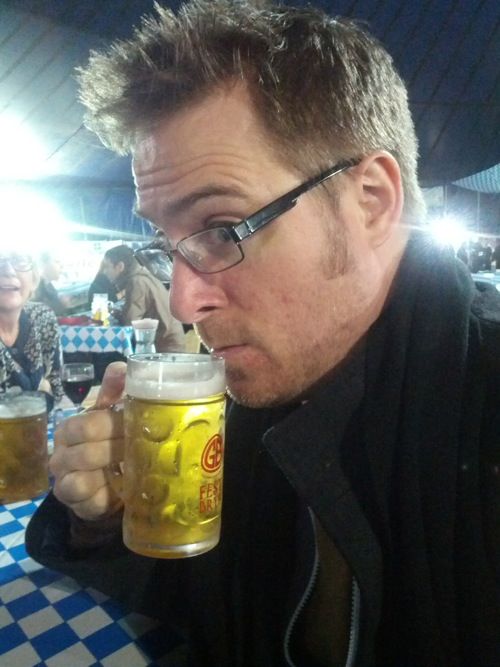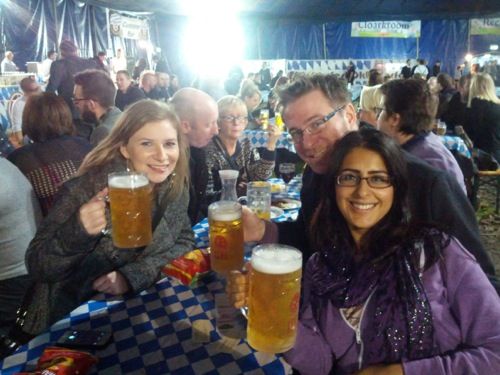 NOVEMBER/DECEMBER
In November the Studio boys marked the 50th Anniversary of Doctor Who with a
new set of caricatures
. Despite an internal argument on whether to include Peter Cushing ("He's not the same character!") and last minute jitters over John Hurt (in retrospect we apparently went the wrong way) I think they turned out great; I'm on stand-by to complete a Peter Capaldi piece once he materialises in costume.
Our donut sortie earlier in the year had been accompanied by an airing of Electric Six and idle speculation about what they were doing now; come November we were seeing them live at the ABC. A good night out. Dick Valentine remains a brilliant but odd front man, tongue firmly in cheek. The support act,
Andy D
, was hilarious.
The tale end of the year came with a deadline crunch. I had a big job to do in Dundee that necessitated a couple of nights away from home and had to take another assignment up there with me. Only when inking something at a desk in a hotel room can you rightly call yourself a pro cartoonist! The trip was made to do yet more more work in the social work sphere. On an evidence-gatherng trip I spent some time at a food bank. There's been many a headline about these of late but seeing one at work - and, more to the point, how much demand there is for assistance - was a timely reminder of the age in which we're living. Dickens would shudder to see how akin to his Christmases our own have become.
There were various other loose ends that had to be attended to within the month and so, unfortunately, I couldn't spare the time to do the usual advent calendar of caricatures. However over the year I have been slowly but surely pushing myself to produce more digital work. And in the period when the "selfie" became so ubiquitous I thought we'd send a caricature Christmas card this year.
Of course we've had the odd bit of bad news here and there but overall 2013 has been very good to us and we have plenty of reasons to be cheerful and optimistic about 2014. It will bring several big family landmarks and promises the largest project I've been involved in for quite some time. Looking forward to it!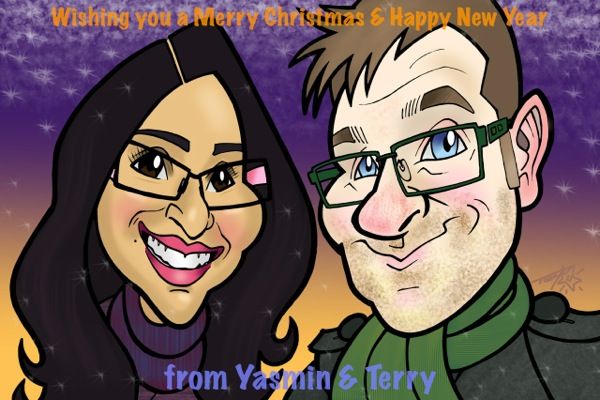 Tweets by @Schism_Schasm
A critique of Warner Bros, Legendary Pictures & Syncopy's Man of Steel by Zack Snyder, David Goyer, Christopher Nolan Nolan and Emma Thomas. Plot spoilers.

In a summer movie season that so far seems to have been defined by the under-performance of star vehicles and uncomplicated fare triumphing over extravaganzas Man of Steel hasn't done too badly, on paper. It doesn't boast any current A-listers in its cast and isn't even called Superman... whatever, yet on the strength of goodwill that's evidently still felt for the character his latest movie's takings have sailed past the half a billion mark. It won't make Avengers or Iron Man 3 money but nor is it a Lone Ranger style train wreck. Warner Bros will be pleased.

But look to the fans and responses vary from tepid to outraged. The last time I was at ComicCon, the floor was abuzz with unbridled glee over The Dark Knight, a movie that took great liberties with established DC Comics characters, was earnest and dark and intense, placed the story within a genre other than kid-friendly fantasy, dialled back use of the main hero's name in favour of an obscure subtitle and went on to achieve unprecedented levels of success. This weekend in San Diego there will be disgruntled mutterings and plenty of snarky humour about Man of Steel despite the fact that key talent from The Dark Knight has returned for this project and all of the above points are equally true of their latest production. Yet it's a two stars out of five picture, at best. What went wrong?

The Superman origin story is well-worn. It was perhaps a mistake to retell it at all, even though from the first minutes of the film Snyder and his team attempt to show us a version of the tale quite different from previous iterations. It's sensible to reveal more of Krypton and invite us to invest in Jor-El and Lara just as Batman Begins gave us greater reason to care about Thomas and Martha Wayne. Interesting to portray Clark Kent as an itinerant guardian angel, not sure what to do with himself. Vital to have the Kents instill a moral sense in the young Clark. The film's first huge misstep is that Jonathan Kent and his death demonstrate precisely the wrong lesson and a laughable one at that. When Glenn Ford's Pa Kent stumbles and falls to the ground before a quick cut to his funeral in Richard Donner's Superman the impact on Clark is crystal clear. "Humans are frail, there's certain things you can't change and some people you won't be able to save; accept that, take what you've been given to do everything possible to help those you can."

When Kevin Costner's Pa Kent is willing to die in one of the most dramatic and unpleasant ways possible, needlessly, over a dog and merely to protect anonymity, the impact on Clark is crystal clear. "Humans are idiots, there's things you can do to help them but they might not like it and you might be inconvenienced; accept that, hide what you've been given, do a bit of good here and there but you'll be hated in any event. Oh and by the way, you could have ran back here superfast, got me and the dog (not even a baby or a sweet old lady, a fucking dog) and no-one would have even noticed in all the chaos of this on-coming tornado. But no, this way is better, this cornball, obvious attempt to pluck heart strings is so much better."

Snyder has been guilty of lapses into sentimentality and shown himself eager to place visual excess ahead of logic in both his previous comics adaptations, 300 and Watchmen. Here these habits grate amid the generally cool palette and somber tone chosen, the prime example being the clunking scene in a church at the end of the second act. That's galling, as it actually makes sense to shift a big screen Superman more firmly into harder sci-fi territory. He is an alien from another planet; irreducible and irrefutable. As Bruce Timm found when making his Superman cartoon series in the nineties, if you don't want to tell tales of an invulnerable demi-god pushing mortal men around and consequently seeming like a bully then you have to look to other planets and further alien foes that form a credible threat to the character. Zod or a similarly maniacal powerhouse character (Mongul maybe or - holds nose - Doomsday) is a good choice for the first film in a cycle as it enables the filmmakers to cut loose, show us the raw power of Superman and therefore the burden he's carrying. Much has been made of the cavalier attitude to human life that pervades the final third of the film, and I'll come to it, but Superman doing plenty of super stuff has surely got to be preferable to the endless scenes of inaction that padded Bryan Singer's Superman Returns.

Making Krypton an Easter Island society advanced in its culture yet hidebound in its philosophy and utterly dedicated to practices that are destroying the environment was a development I enjoyed. The question of why Jor-El and Lara don't leave right along with their son is persistent a loop hole as any in the Superman canon and the film makes a good attempt at closing it. Here we find there's something inherently and dreadfully wrong with Krypton and its people. The Jor-El/Zod conflict over how to solve that problem is certainly about morality and methodology but also chronology. They both want to start Krypton over again but one recognizes that it has to be a completely fresh start, personified in the potential of an un-engineered child. The other just wants to turn back the clock to the good old days and regain an empire, too blind to see the same mistakes will be made on Earth as on Krypton and its innumerable colonies. That's good writing but it gets lost in the din and disaster of the plot.

Like Star Trek Into Darkness earlier this year Man of Steel is poor sci-fi because it wears its illiteracy and inconsistency so firmly on its sleeve. Saying an element isn't on the periodic table to indicate that it is alien just signals that you, the writer, don't know quite what the table is and how it works; likewise a cold fusion device wouldn't actually lower the temperature of its surroundings just because the word "cold" is in there. I rejoiced when Snyder announced that he would be making no use of kryptonite, the sloppy, inconsistent macguffin to end all lazy, nonsensical cop-outs. In this film Superman's powers are neatly explained by his three decades of maturation on Earth exposed to our lighter gravity, more nourishing air and most of all irradiated by our younger sun. The advent of these powers is portrayed as gradual, traumatic, requiring time to master. His weakness is his link to the Earth; take him off world and even more so into an environment that replicates Krypton itself and he gets sick. These are ideas that are new, at least in the cinema, and welcome with it.

But it's all ignored almost as soon as it's set up for the sake of convenience and A BIG FIGHT. Zod and his lieutenants set foot in Kansas wearing suits that explicitly seal them in against the atmosphere of our planet and yet can immediately leap tall buildings etcetera, expressing no surprise, bewilderment, joy or concern. They proceed to tear Smallville (or IHOPville) to pieces pausing only to double down on the bullshit. Suddenly, if these Kryptonian suits are breached the super-powers acquired by the wearer become too much to handle… So we must assume they let in a little sunshine and a bit of air, just enough to make one invulnerable, incredibly fast and strong, but not so much to make you shoot fire from your eyes. Did they know this going in? Frustratingly this could have all been settled by just a couple of extra lines in Zod's tale about the years spent in exile. While visiting all those failed Kryptonian outposts he and his crew could have been exposed to different stars, making them stronger all the while, before arrival on earth pushed them up to superhuman level. Consistency restored. Bring on THE BIG FIGHT!

And so to the final act and the cataclysm that befalls Metropolis (if it is Metropolis, no-one says so). The gravity weapon/terraforming engine is yet more of the semi-solid, vaguely organic tech we've seen a million times before but the to-and-fro, up and down slamming effect it wrought was genuinely menacing and novel (to me anyway). The urban destruction portrayed onscreen pushes against the limits of taste and patience. A whole lot of American films this summer have cities and landmarks being levelled. It's a common enough trope if you look back over the last century as a whole but for some reason the post-9/11, unspoken moratorium on tumbling buildings has well and truly ended this year. Man of Steel does its part. The visuals are expertly realised but incessant to the point of numbing the viewer. Snyder's constant use of crash-zooms and faux hand-held camera wobble don't help. The film never pauses to take anything in and even in its few quiet moments feels fidgety.

Afterward all the shock and awe it's very hard to muster any enthusiasm for the final conflict between Kal-El and Zod, what should be the film's emotional climax. Michael Shannon acts his guts out in these scenes and once the he and Henry Cavill's likeable hero are fighting mid-air and hand to hand everything suddenly feels right; we're watching a decent Superman film for about ten minutes. I'm actually willing to forgive the the much-trumpeted flub of Superman not taking the fight beyond the city and chalk it up to a rookie move by an inexperienced hero. It bothered me far less than the similar protracted fight on the streets of Smallville. At this stage Supes has no emotional connection with the big city and, frankly, it's already a wreck by the time Zod's gloves come off. If this brawl had gone to a depopulated area there'd have been no-one for Zod to vindictively terrorise and no push for Kal-El to make the ultimate sanction. Again, there's nothing inherently wrong with a big destructive fight between two super-beings followed by a smaller confrontation at the end of the film. The same thing worked in Superman II. The difference is whether the film has earned the audiences investment in characters by the time it gets to that conclusion.

This film denies investment through constant contradictions in its plot and leaps - or more accurately, gaps - in logic. After the whole world has witnessed these terrible events, after all the dire warnings Jonathan Kent gave Clark as a boy, warnings he was willing to die in order to enforce and the same warnings Perry White gives Lois Lane about what will happen if the truth is known, after the entire globe has been addressed directly by an other-worldy intelligence, a city's been leveled, as has a rural community, an ocean's been boiled and contaminated, thousands of people have (presumably) died and the sole surviving alien has shown he's willing to kill if necessary… EVERYONE GOES BACK TO WORK. The writers cannot have it both ways. The arrival of aliens is either a game changer for humanity or it isn't. All the US army is willing to do after the chaos is have a single spy satellite tail Superman? Doesn't cut it, not when in the real world they've got drones flying in every direction and are monitoring email and cell phone exchanges. In order to find out who Superman Lois merely had to ask a few questions, retrace a few steps. The town he grew up in is now a flaming disaster area in the middle of wheat fields, you really can't miss it. In fact the military set fire to it as they unloaded round after round, missile after missile, long after the point when it became apparent they had no effect on aliens. If they're worried about the threat Superman represents the whole continent should be in lock down and Ma Kent should be in Guantanamo Bay.

So maybe Snyder and co want to seed a sequel here and save the human response to Superman's existence for the next film. Enter Lex Luthor, perhaps. If that's the case I'm not sure introducing Emil Hamilton here only to throw him away is such a good idea. To return to the Timm cartoon, Hamilton's character was used brilliantly over a long arc, a man initially amazed and inspired by Superman but eventually troubled and finally frightened to devastating effect.

The shadow of Nolan's Dark Knight trilogy cloaks the entire production, from the marked reluctance to use the name of the main character to the liberties taken with supposed sacred cows in the back story and most obviously the overwhelmingly earnest tone. But Superman is not Batman and the same treatment, whatever that may be and dependent upon the judgment of the creators involved, will not necessarily work for both characters. Earlier this year Iron Man 3 demonstrated what happens when too glib a screenplay is deployed while attempting to maintain an audience's stake in a popular superhero character. We are temporarily tickled by the cheek of it but ultimately feel robbed. Joss Whedon's Avengers got it right. Humour doesn't have to mean deconstruction. Man of Steel would have benefitted enormously from some better jokes and fewer ponderous moments of purported gravitas.

Ultimately small boys should leave a Superman film wanting to be him. This one made the experience look so painful and unpleasant that being Batman would seem a breeze by comparison. The movie's main moral lesson is that if you can save you dad's life but he says no, then don't. A failure.

PS- Why is "The Codex" half an old skull? Whose? Why? Huh?
PPS- This film would make Freud blush. Penetration every five minutes.
PPPS- I did like the music.
Tweets by @Schism_Schasm